From the brewer:
"Boundary is a Cooperative. A brewery owned by its members
We believe that life is best when shared and enjoyed with others. We think the same about beer. So grab a beer, and a friend. And enjoy.
In December 2014, we offered our first members the chance to start a brewery that we could all be proud of — a brewery worthy of Belfast. In eight days, we raised £100k and welcomed 447 member-owners to our cooperative. In January 2015, we took the keys to our brewery in Portview Trade Centre. In May, we brewed our first beers.
In December 2015, we opened membership again, and raised over £160,000 to help us scale. We're now over 1000 strong. Having the support and weight of over 1000 members is phenomenal. It's by far the best decision we've made, and our success is in no small part down to our members' input and effort.
 All members have full voting rights, but with Boundary's success, members may receive, from time to time, an additional dividend. Read our FAQ for more details.
We had an opportunity to establish Belfast as the source of some of the world's best beers. With a brewery that we all own."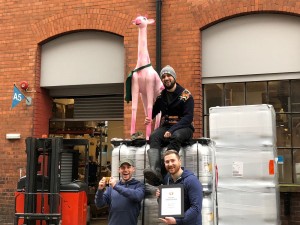 Here is the gang at Boundary posing in front of the first shipment to the US.
beers