Japan
The craft beer scene in Japan is really taking off, with more and more breweries embracing traditional techniques and using modern brewing systems. Also notable is the Japanese mentality of striving for balance — a characteristic present in many of these beers. These breweries are also taking advantage of traditional Japanese ingredients, such as yuzu, dai dai fruit, wasabi, green tea, and more, yielding truly original brews. 
The beer culture might be relatively new, but Japan has a long (and delicious) history of expertly brewing sake and shōchū as well as fermenting things like miso and soy — not to mention the vats of delicious fermented and pickled vegetables you'll see at any street market. Needless to say, they know what they're doing. 
Some of our favorite beer events take place in Japan, including Snow Monkey Beer Live!, a beer and music festival in Shibu Onsen, and Beer Keiyaki, a twice-a-year festival just outside Tokyo.
We're also excited to be able to ship directly from Tokyo to the West Coast, meaning someone in California could feasibly drink a Japanese beer that was brewed only a few weeks before. We love being able to share just a little bit of this beautiful, strange, special culture that we've come to admire.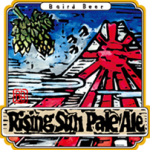 From the brewery's website: "This quenching brew is crafted in the American west-coast style. It sports a beautiful soft citrus hop aroma which gives way to a round, honeyed-fruit flavor. The finish is crisp and refreshing."
From This Country
Breweries