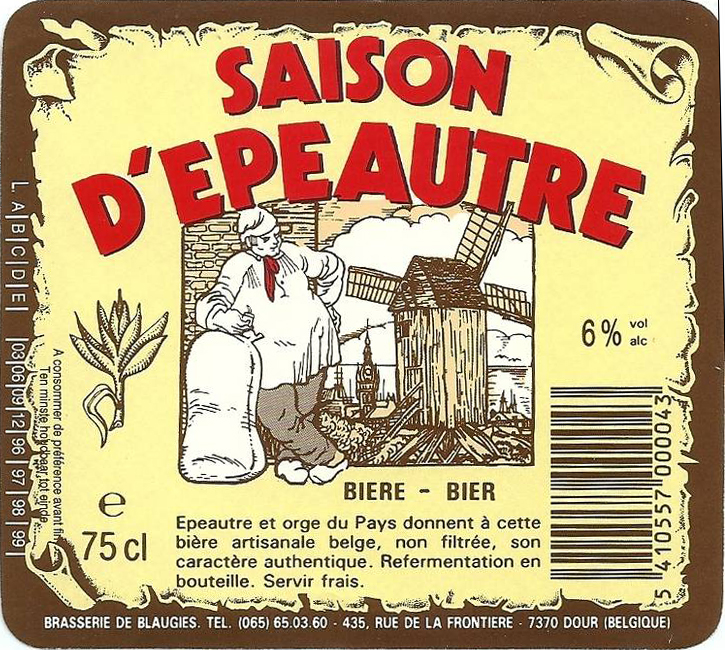 Blaugies Saison d'Epeautre
Saison D'Epeautre is a saison beer made in a unique traditional style, using spelt and barley malt in the mash. Very dry and light in body, with a hint of wheaty tartness and a hardy texture that expresses the character of spelt, a primitive strain of wheat.
It is one truly feisty brew, with an outrageous pop and a natural long-lasting head. And ah, the aroma! It's a wonderfully heady, musty, cellar character that is unmistakably Belgian and a lot like champagne. The taste delivers on the promise of the nose. Very enjoyable, and perfect for summer, but wonderful at any time of year.
D'Epeautre is hand-brewed in small batches by the impassioned, gifted Blaugies brewers, a husband, wife, and son team. They're very adventurous in recreating traditional beer styles – and are some of the nicest people you will ever meet. The family enjoys good food and beer, and consumes a lot of its own product for cooking and drinking. We like the rougher, grainier malt texture of all their beers. They give you the feeling that the brewers put this beer in a bottle just a few days ago, especially for you.
"A fine revival." – Michael Jackson
Style:
Saison
ABV:
6.00%
Packaging:
750ml cork-finished bottles, 30L kegs
Other Beers by Blaugies