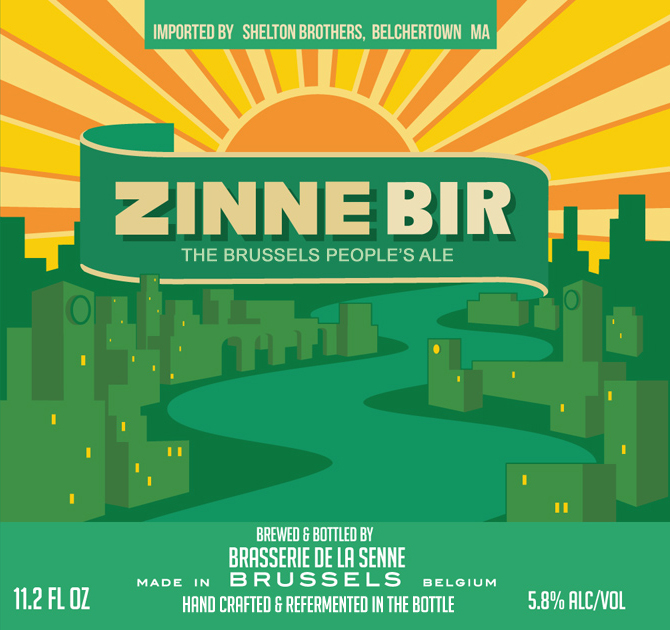 De La Senne Zinnebir
The name Zinnebir refers to a term from Brussels tradition, — 'zinneke' — slang for the wild mixed-breed dogs that used to inhabit the poor quarters of the city along the Zinne. It means 'little bastards,' and has been applied more recently to those young men living in the poor quarters of Brussels who have flemish-speaking fathers and french-speaking mothers (or vice versa). De La Senne brewer Bernard LeBoucq identifies strongly with the 'little bastards'; he is a French-speaking Bruxellois, brewing in the heart of the Flemish Payottenland.
Bernard came to De La Senne from the Sint Pieters brewery, and brought his Zinnebier with him. The recipe originated in a very Flemish patch of countryside in Sint Pieters, along the Zinne, in the heart of lambic-producing territory. Bernard worried that the folks in the town of Sint Pieters would have a hard time accepting a brewer from the Big City, Brussels, and his beer. No problem. While we were visiting, an old farmer in dirty coveralls, aromatic of cow crap and boasting a grand total of five teeth, dropped in for a glass of Zinnebir, and took the opportunity to profess his devotion to the beer and the local brewery.
It is a tasty and very well-made brew, indeed, and it is only getting better. The Zinnebier has evolved along with the brewer. When Bernard hooked up with Yvan De Baets of De la Senne, the Zinnebier evolved from a strong, malt-focused, 8% alcohol beer to a bright, light, 5.5% beer with the same yeasty complexity, malt backdrop, and refreshing hop bitterness, that the original was known for. We see good things happening as Bernard and Yvan continue to collaborate on new, exciting brews. Look for more De la Senne soon, when construction of their very own brewery wraps up in Spring 2010!
Style:
Blonde Ale
ABV:
5.50%
Packaging:
330ml bottles, 750 ml bottles, 30L kegs
Other Beers by De La Senne