Kulmbacher in das haus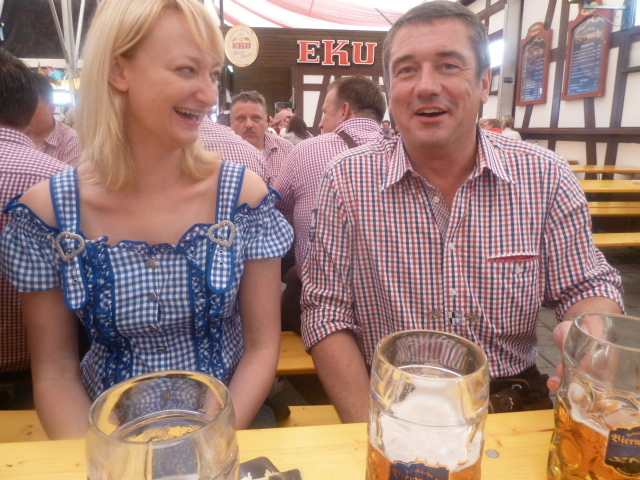 Thomas Wölfel, Worldwide Export Manager for the Kulmbacher breweries, including EKU, Moenchshof, and Kapuziner, kicks off a rare US whirlwind vist tonight at Jimmy's no 43 (www.jimmysno43.com) in NYC's east village. This special "Industry Tap Night" will feature four Kulmbach drafts, and, if you're lucky, the sight of Brother Joel & Thomas in lederhosen.
On Saturday the 22nd, Thomas will be joined in Philadelphia by a small army of Shelton reps for the second annual "Bierfest" (www.phillybierfest.com) a celebration of Pennsylvania's Teutonic brewing heritage. The Fest kicks off at 1:30 and features a special Kulmbach exhibit, a panel discussion, crazy live entertainment, and tastings of over 200 brews, including six from Kulmbach, and seven other Shelton faves. The ever-tightening lederhosen is definitely on for this one.
On Sunday the 23rd, Philly's venerable Brauhaus Schmitz (www.brauhausschmitz.com) will offer a free pre-brunch beer sampling at 12:30, hosted by Thomas and featuring several Kulmbach drafts. The lederhosen may still be on from the night before!
Later that day Thomas & Joel will zip back to NYC for a free Kulmbacher sampling at City Swiggers (www.cityswiggers.com) the upper east side's largest beer shop/café, from 5:30-8..A range of Kulmbacher sips will be on offer and the bar will also be pouring two Kulm drafts. If the lederhosen is still being worn, you may request an arm's-length pour.
See you theres.
Yes, "theres."