Magic Rock has arrived!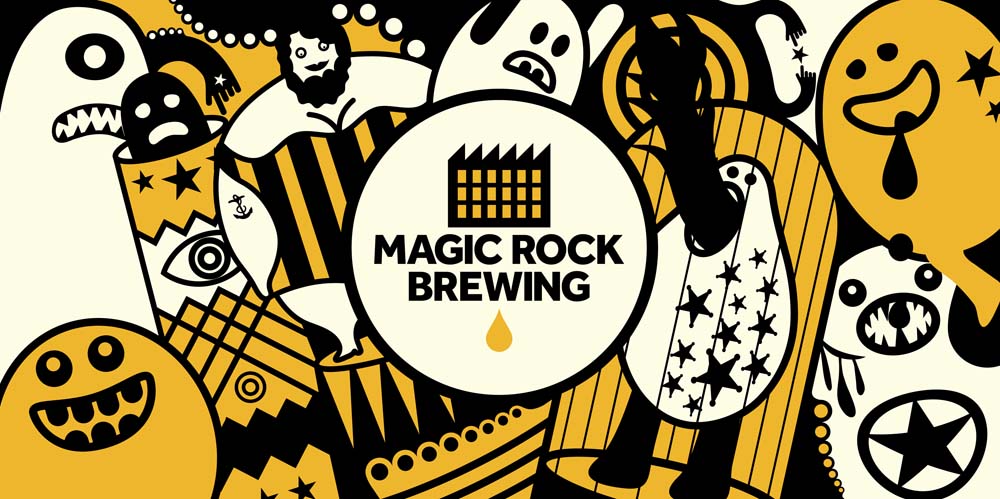 The Shelton Brothers are proud to announce the arrival of our first order from the British brewer Magic Rock.
Magic Rock is located in Hudderfield, West Yorkshire, England. People have lived in the area for over 4000 years, and the remains of a Roman fort are located outside of town. The brewery is not quite as old, it opened in 2011, quickly gaining a following in the UK. They were rated the #2 new brewery of 2012 on ratebeer.com and the following year they ranked as the #50 best beer in the world. Now they are going to try and conquer the U.S.

We are starting by bringing in five different beers, all are available in 30 liter keykegs.
CURIOUS – This 3.9% pale ale, is Magic Rock's flagship beer. You'll want to drink every day! Pale in color but unlike other pale ales lacking nothing in the flavor stakes. Plenty of US hops are used to give the beer a floral/grassy aroma and lip smacking citrus flavors which combine with a defined malty character to make a magically moreish and thirst quenching beer.
CANNONBALL – An India Pale Ale in the true tradition, high in alcohol and massively hopped to survive a long sea voyage. We don' t want you to wait though, crack the cap and let the flavor explode on your palate. Tropically fruity, resinous hops compete against a sweet malty backbone, while a rasping bitterness builds to a mouth puckering crescendo. This 7.4% hop bomb might just blow you away
CARNIVAL – A lustrous Golden Ale to remind you of sunny days and summer suppin. Heady aromas of sweet Pine and Tangerine invite you in while a light caramel body gets things started. The revelry rises with earthy pine and sweet summer citrus flavors carousing the palate, and culminates in a laid-back bitterness and refreshingly dry finish.
BEARDED LADY – A uncompromisingly big and beautiful 10.5% Imperial Stout. It contains masses of magical malts to deliver deep chocolate, rich coffee and vinous berry flavors all complemented by a balanced yet subtly spicy hop profile. Powerful, robust, intriguing; yet decadently smooth and sumptuous, the lady demands respect!
HIGH WIRE – Magic Rock's tribute to the west coast pale ales. It is unapologetically hop forward in character. Let your taste-buds walk this test of balance. Mango, lychee and lip-smacking grapefruit flavors harmonize against a smoothly composed malt base, which develops into a crisply bitter finish.