Oktoberfest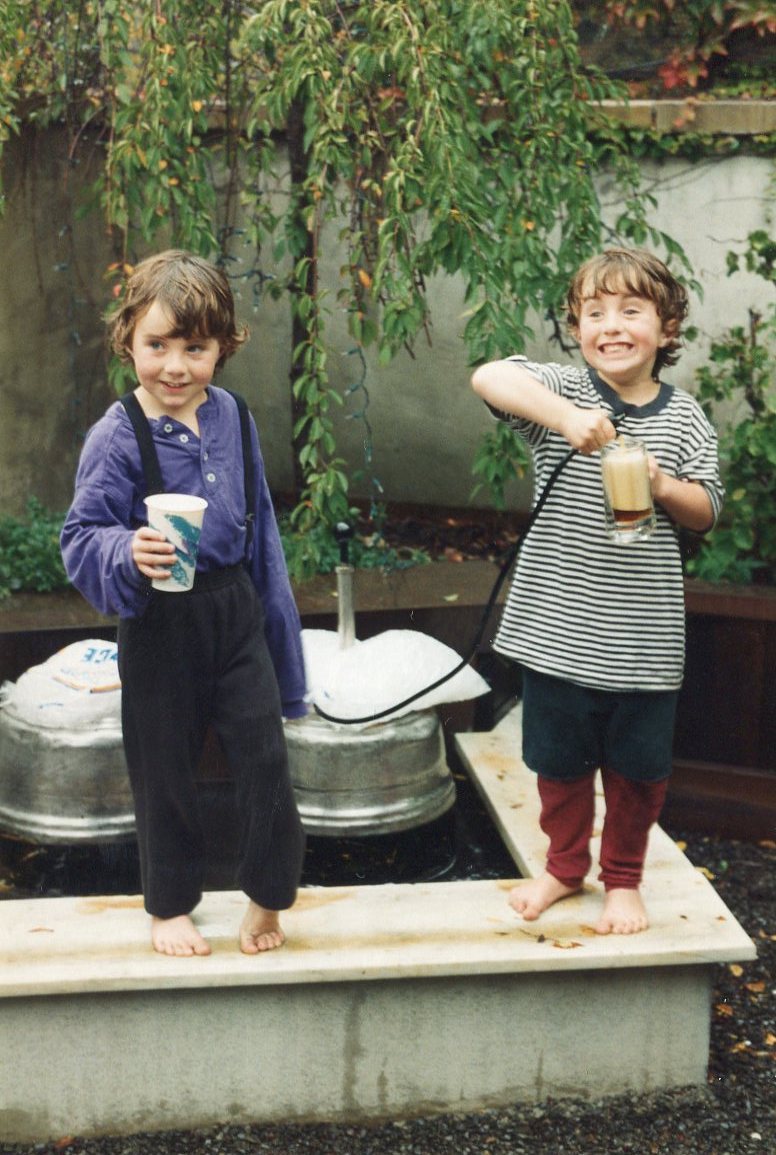 The December holiday season is often described as "the most wonderful time of the year." No way! For the Shelton Brothers and their extended family (which includes all lovers of fine, traditional beer), Oktoberfest — whether celebrated in Munich or anywhere else kegs can be tapped — is a far more joyous occasion.
Like Christmas, Oktoberfest stems from an ages-old pagan seasonal celebration — in this case, the bringing in of the harvest, and the consuming of the last of the summer beer stock. It's a time for families and communities to give thanks for another successful crop and to joyously clear the kegs for winter brewing. This event, or something very much like it, is universal; Munich just does it way bigger.
Twenty years ago, just before the Brothers went professional, we were beer geeks. In those more innocent times, zymurgical fanaticism extended un-ironically to appreciation for a simple frothing mug (or ten) of classic German liquid bread — round, chuggable blond helles; spicy, malty amber märzen; rich, dark, warming doppelbock. Bavaria was still the capital of beer, and the Germans had continuously served world-class brew as their regular, mainstream product, even throughout the dark days when everyone else had cheapened their biggest brands to the point of no taste at all. In the '70s and '80s, the Sheltons did hard Miller Time, were pissed on by the Budweiser Clydesdales, and — having had that first taste of the real stuff from Das Vaterland — wondered why Americans put up with such swill.
By the early '90s, the "Craft Beer Boom: Phase One" was in full swing: Britain had saved its Real Ale, author Michael Jackson had written books extolling the wonders of mystical concoctions from every corner of the globe, and Americans had started making beer again. Craft breweries were popping up everywhere, more imports were flowing into the shops and bars, and it was all a lot of fun. Each Bro tried his hand at homebrewing (with mixed results) and started collecting breweriana and visited newly-opened brewpubs, generally lapping it all up, quite literally. Britain and Belgium were obvious destinations, and by 1994 plans were afoot to actually create an importing company set up for the sole purpose of getting our greedy paws on all the lambic we could drink. But somehow Germany remained the ancestral homeland. We recognized instinctively that the tart Berliner weisse was the sister to the cranky, aged lambic; the unfiltered Franconian lagerbier the brother to the refined British bitter; the noble, hearty eisbock the long-lost cousin to the reflective monastery dubbel. What mostly set the Germans apart, though, was the way they went about enjoying their beer — gathering shoulder to shoulder at well-worn, massive tables, crowded into tents or biergartens, hoisting and clinking liter steins, and generally loving life, loudly. The Sheltons rather liked that, and one or other was present at Oktoberfests '91, '94, '95, and '99.
Stateside, in October 1994, the brothers put on their very own Oktoberfest in Dan's large Brooklyn apartment. Many, many good friends thronged the house and backyard; there was an oompah band made up of Joel's musician pals; there were several kegs of who-knows-what (we don't think there were any triple-IPAs); and, perhaps most importantly, there were Will's twin sons Max and Zack, dutifully tapping and delivering mugs of foaming lagers and ales to slackers who gladly took advantage of the free service. Recent archaeological photo digs have unearthed these priceless images of the wise-beyond-their-years little munchkins, the next generation of Shelton Brothers, taking a little time off to sample the autumn brew for themselves, just like the little folks in Germany have been happily doing for eons — and maybe even just a little bit like the way we elder Brothers sipped our Dad's Piels Real Draft in Dixie cups back in 1969…
The celebration that day felt timeless and organic — a typical house party in America, perhaps, but one with really good beer, goofy, fun music blaring forth from acoustic instruments, and the happiest little beer tappers ever seen. The Germans taught us well.