Please, sir, I want some cider!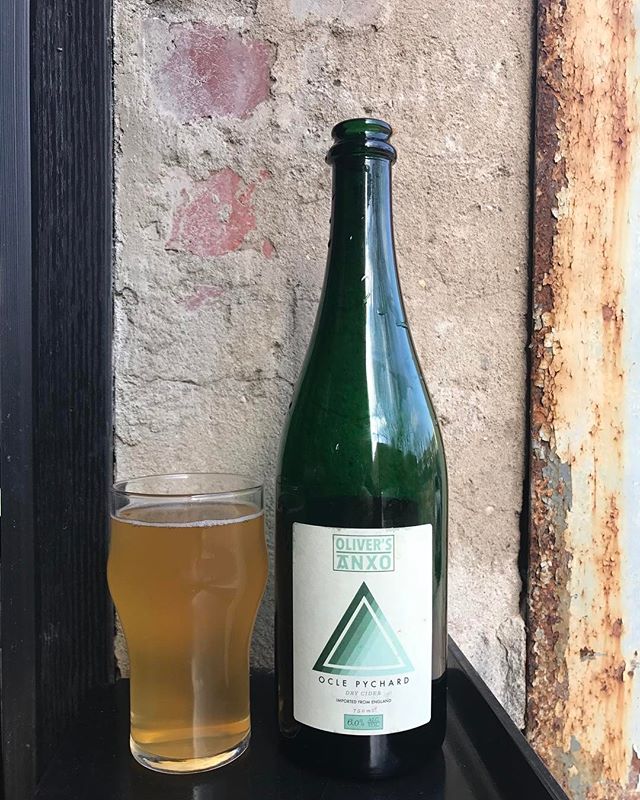 Tom Oliver of Oliver's Cider & Perry will be heading to CiderCon in Baltimore in late January, and we'll be setting up some great cider events in the area. Stay tuned for event specifics, but for now here's what we're excited about from the legendary English cidery:
Oliver's/ANXO Ocle Pychard
Greg Johnson, head cidermaker at ANXO Cidery & Pintxos Bar in Washington D.C., paid a visit this summer to Tom Oliver's cidery and barrel house in the heart of Herefordshire, England, with the goal of making a proper English cider — a departure from ANXO's usual Spanish-inspired sidras. Greg and Tom pulled samples from close to every single tank and barrel of cider at Oliver's in search of the perfect traditionally dry, still blend. Starting with a base blend of juice, they added hints of character until Greg felt they'd hit on the overall flavor profile and balance. The majority of the production will be available onsite at ANXO, but a small amount will be shared with the rest of the country as well.
Tom says: "Much enjoyed seeing Greg get his palate around some of our more challenging options, but the finished 'Ocle Pychard' is a testament to his appreciation and understanding of bittersweet and bittersharp cider and the 'sense of place' he felt while in Herefordshire. Great job, Greg!"
Ocle Pychard is available in 12/750mL case and 20L bag-in-box formats.
Gold Rush #4 and #5
The Gold Rush series stems from a 4-year partnership between Tom, Greg Hall of Virtue Cider, and Ryan Burke of Angry Orchard. Shelton Brothers still has some of last year's vintage, Gold Rush #4, in stock, and it's pouring wonderfully. #4 is the last collaboration blend involving all three cidermakers, and features a wild ferment that was followed by a pitched lambic one. The resulting cider shows hints of mushroom and drinks beautifully when chilled.
For Gold Rush #5, Tom and Ryan collaborated as a duo, and the cider underwent just a single wild ferment. An exploration of barrels and time, the earthy, meaty Gold Rush #5 was blended over three visits by Ryan during the first half of 2017. He and Tom inspected Oliver's four barrel rooms and chose some of the more tannic, woody, earthy bittersweet ciders to create a formidable base blend. To this, they added some straightforward tank-fermented juice and muscavado sugar, creating a woody, oak-infused cider with a light residual sweetness. Two different additions of sharp cider from five Foxwhelp single varietal barrels lend a balancing acidity.
Tom says: "Always a joy drinking and blending cider with Ryan. He has a great palate and understands the nuances of tannic ciders and the use of oak barrels … This is a testament to his cider/food matching abilities."
Gold Rush #4 is available in 12/500ml cases; Gold Rush #5is available in 12/330ml cases.
Farmhouse Perry
We haven't given full credit to this workhorse of a perry yet, though it is already available on many shelves. Blended from tank and barrels, it's beautiful, easy drinking, off dry, and still — well-suited as an everyday choice to offer at dinner in place of a full-bodied white wine. This perry provides an incredibly satisfying mouthfeel that makes it pair well with creamy sauces like curries or cheese-based pasta sauces. It may even win over white wine fans, thanks to its greater versatility with food and lower alcohol content.
Farmhouse Perry is available in 12/750ml case and 20L bag-in-box formats.
Classic Perry
We must take care not let the Farmhouse Perry overshadow its more playful counterpart, the Classic Perry. This medium-sweet and sparkling perry, fermented from a mix of Blakeney Red, Oldfield, Butt, Red, Gin, and Thorn pears, is bright and grassy — a great option in place of sparkling wine.
Classic Perry is available in 12/500ml cases.
At the Hop
Tom Oliver initially resisted the hopped cider craze he was seeing among American makers (and even some of his British colleagues). Hops are for beer, after all, and what could they possibly have to offer a proper English cider? But then he tasted several US ciders that piqued his curiosity.  What might hops do with bittersweet English cider apples? His family has a history in the hop trade, after all, and all of his cider barrels live in their old hop kilns. After much research, he chose US and UK Cascade varieties, and initiated a double hop infusion to a fully fermented cider: the first for overall taste and flavor and the second, made just prior to bottling, for aroma. The result is still a proper English cider, but with more earthiness and with Cascade hop's signature grapefruit and pine aroma. It turns out hops can play well with bittersweet apples, even in the old country.
At the Hop is available in 12/500ml cases.