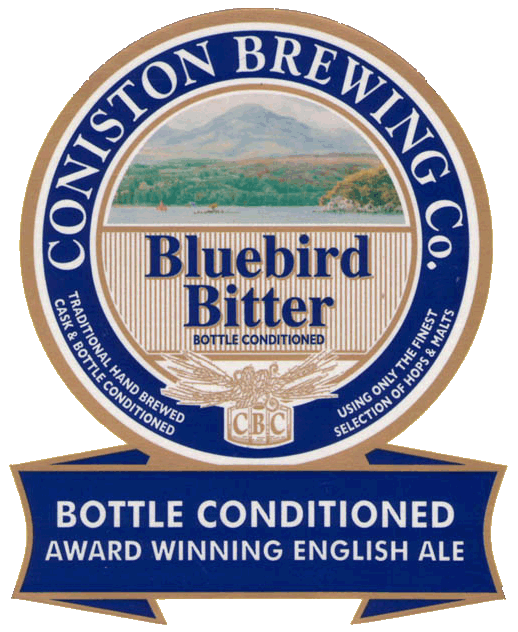 Coniston Bluebird Bitter
The best of Britain is here!
In England, an "ordinary" bitter is a beer for everyday drinking – the kind of beer you can turn to again and again through a long evening of socializing at the pub. Bluebird Bitter is an extraordinary "ordinary."
The bottle-conditioned Bluebird is altogether different from other bottled beers – it somehow tastes and feels like beer from the cask.
Bluebird Bitter was the Champion Beer of Britain at the Great British Beer Festival in 1998.
From the brewer:
"It is, quite simply, a wonderful beer. It is exceedingly pale (21-22 units colour), with just a hint of colour in its cheeks from the dash of crystal malt. It has a massive orange fruit aroma from the challengers, balanced by
biscuity malt."
From Roger Protz – CAMRA:
"Juicy malt and tart hops vie for attention in the mouth while the finish is tart and hoppy but well balanced by creamy malt. The bitterness rating is a substantial 36-38. The tangy fruit lingers on the back of the tongue until it develops a hint of orange liqueur."
The name Bluebird comes from the boats that Sir Donald Campbell CBE used to break the World Water Speed Record. He set seven records between 1955 and 1964, four of which were on Coniston Water. Coniston was chosen because it was deep, long and had "no inconvenient islands." In 1967, Campbell was killed while trying to break his own record in the Bluebird K7. The boat was moving at over 300 mph upon Coniston Water when the accident occurred. For you history buffs, here are some newsreels about Campbell and his efforts:
Style:
Bitter
ABV:
4.2%
Packaging:
500ml bottle, cask, 30L keg
Other Beers by Coniston