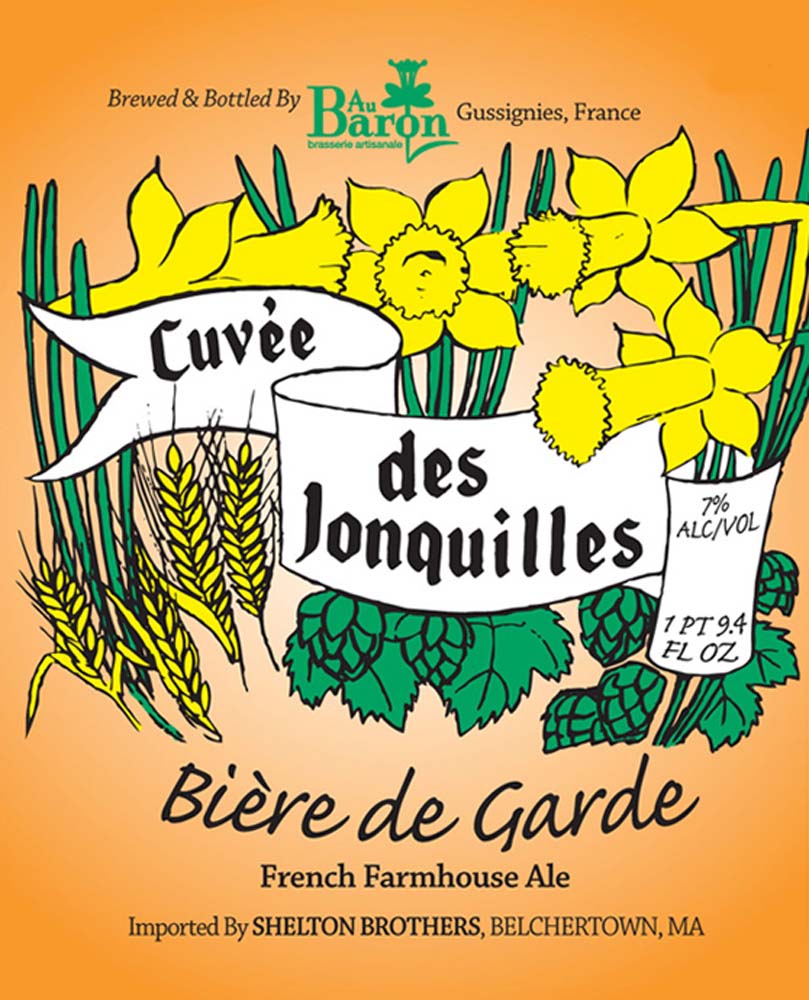 Au Baron Cuvée des Jonquilles
'Jonquilles' is the French word for daffodils, and the name undoubtedly refers to the lush garden surroundings of the Baron restaurant and its tiny Bailleux brewery, where the beer is made in very small batches. Cuvée des Jonquilles is almost impossible to find even in France, and intrepid beer-lovers usually have to make their way to the restaurant to get it. The Baron and Baileux brewery are situated just over the border with Belgium, and are themselves nearly impossible to find, but very much worth the effort.
The family that has run the restaurant and the brewery since 1989 comes from Belgium, and connoisseurs will note that the Cuvée des Jonquilles has a strong affinity with the classic Belgian saison beers. (The Baron is very close in fact to the Blaugies brewery in Belgium, which makes beautiful saison; you might do well to stop in there to ask the good people for help in finding the restaurant.) According to Phil Markowski, in his book on Farmhouse Ales, Jonquilles "fits the classic saison profile with a dry, hoppy, fruity palate." Indeed, although it is described on the label as a bière de garde, it is refreshingly well-hopped compared to most modern French bieres de garde. It is also one of very few French beers that is bottle-conditioned, with live yeast left unfiltered in the bottle, where they quietly continues fermenting the beer, keeping it lively and fresh, and causing an interesting evolution in the flavor over time.
Michael Jackson called Bailleux a 'revivalist' brewery, and Jonquilles does hark back to an earlier time when there was no border between Belgium and northern France, and the two styles, bière de garde and saison, were probably distinguished only by their names. Both come from the same farmhouse brewing tradition, which involved brewing in the cold months of Winter, and then laying the beers down, thick with yeast, for consumption by the workers in the field in the warm months of late Spring and Summer. Scholars will debate the relation between the two styles of beer. All you need to know is that Cuvée des Jonquilles has long been considered one of the very best beers of France. Think how lucky you are to be able to drink it here – if you can find some. We only have twenty cases at a time, and will probably never be able to get any more than that at a time.
Style:
Saison
ABV:
7.0%
Packaging:
750 ml bottles
Other Beers by Brasserie Au Baron