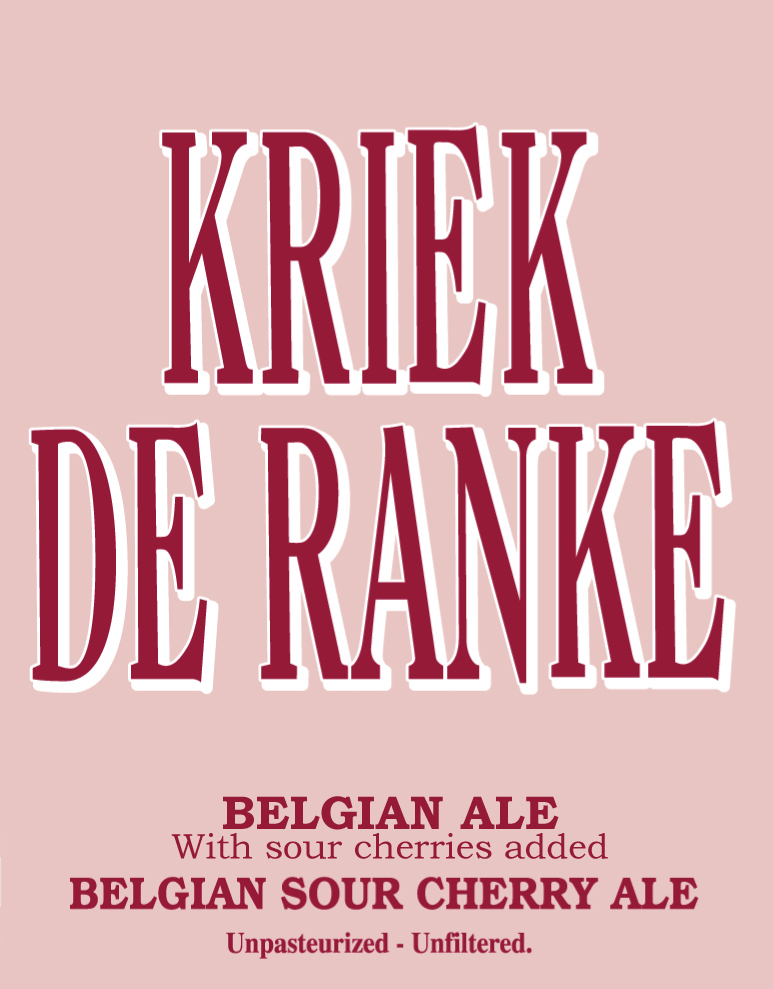 De Ranke Kriek De Ranke
The road to perfection sometimes has many twists and turns.
The De Ranke Kriek story begins, inauspiciously, with our heroes, Nino and Guido, brewing a relatively unremarkable customized beer for a local pub owner. It was 1998, and the beer was a light, amber pale ale of about 6.5% alcohol, with hardly a trace of the high hopping that is the De Ranke trademark. This pale ale was fermented, as all the De Ranke beers then were, by yeast borrowed from the Rodenbach brewery – including some wild yeast strains that are normally found in a traditional lambic beer. Without the hops holding those wild yeasts in check, the beer quickly began to go sour, and folks at the pub didn't care for it much. Nino and Guido ended up with about half a tank of the stuff, which continued to re-ferment and grow ever more sour. Nino and Guido agreed to follow that old adage: When life gives you sour beer, make Kriek. (In Flemish, "kriek" is the word for a sour cherry.) Their model was the earthy, sour and fruity Oud Kriekenbier of the Crombé brewery in Zottegem – forever a favorite of connoisseurs, because it is not sweetened like so many other Belgian cherry beers.*
Nino and Guido fumbled for a couple of years with their tank of steadily souring beer and kilos and kilos of fresh cherries, but couldn't come up with a Kriek that really pleased them. In the meantime, Rodenbach decided to stop giving its yeast to other breweries, and De Ranke had to switch over to a cleaner, less complex yeast from France that did not have that wild aspect.
Then, in a flash of inspiration, Guido – or was it Nino? – hit on the missing element. Why not try adding add some traditional lambic to give the beer that earthy, aged quality that they admired in the Crombé Kriek? Deciding that the original 'Rodenbach' pale ale was a bit too sour for their purposes, they brewed up about a half-tanks' worth of hop-less pale ale, using the new, cleaner yeast. They blended that new 'clean' beer into the tank of older sour beer, and then siphoned off half of that tank of blended beer into another tank. Winging it, they topped up the tank with a young lambic from the Girardin brewery, at a ratio of about 30% lambic to 70% pale ale. The addition of the less alcoholic lambic brought the alcohol content for the whole mixture down to about 6% by volume. Finally, they tossed in copious quantities of fresh cherries from Poland, pits and all. The cherries were allowed to steep quietly, dissolving and fermenting, infusing the beer with deep, rich cherry flavors, for six months. By the end, the fermentation of the cherries raised the alcohol content up to about 7%, and the beer in the tank was a brilliant cherry red.
With one taste, Nino and Guido knew they had got it right. And so will you. De Ranke Kriek is simply splendid – a very dry, very fruity beer, radiantly ruby-colored, with only a hint of sweetness; wonderfully aromatic, with full fruity notes, deep earthy tones. It is perfectly refreshing, yet possesses depth and complexity to please the most discriminating connoisseur of Belgian beers. Beautiful, poised, and sophisticated, this may well be Belgium's greatest Kriek. It is certainly the rarest. About 1500 bottles are made per year. You will savor every precious drop.
If you've been following closely, you're probably wondering: What happened to the other half-tank of pale ale? It lived happily ever after, of course. By keeping that portion of beer aside, and letting it re-ferment, Nino and Guido have managed to perpetuate that original tank of sour pale ale, with its Rodenbach yeast. After a year, the Rodenbach yeast has taken over, and the beer is as old and sour as the original. Every year, the boys brew up another half-tank of new pale ale, mix it with that half-tank of old sour beer, take half of the blend to make more Kriek, and set the other half aside to re-ferment, and the whole process begins again. By this frugal method, the world's supply of De Ranke Kriek should be sustainable for the foreseeable future. The only catch is that there can never be more than that 1500 bottles per year. Catch it while you can.
* Sometime in the last few years, Crombé closed, though no one is exactly sure when that happened. Even in its best years, the brewery was known for its uneven brewing schedule, lack of interest in the more commercial aspects of the operation, and a general grumpiness. In 1997 Brother Daniel went to Zottegem in search of the beer and the brewers. At the brewery, no one answered the door, and he was forced to repair to a nearby restaurant where, fortunately, the full line of Crombé beers were in stock. He brought back several bottles of the Kriekbier – and still has one left in the cellar – but was never able to reach anyone at the brewery to talk about exporting. No one has taken up brewing the Oud Kriekbier since, and it's a pity. With its dark, earthy cherry nose and an orange and blue label that looked like a vacuum-cleaner ad from the 1950s, the beer was a classic, winning five stars in the Good Beer Guide to Belgian beers.
Style:
Fruit Beer
ABV:
7.00%
Packaging:
750ml cork-finished bottles
Other Beers by De Ranke