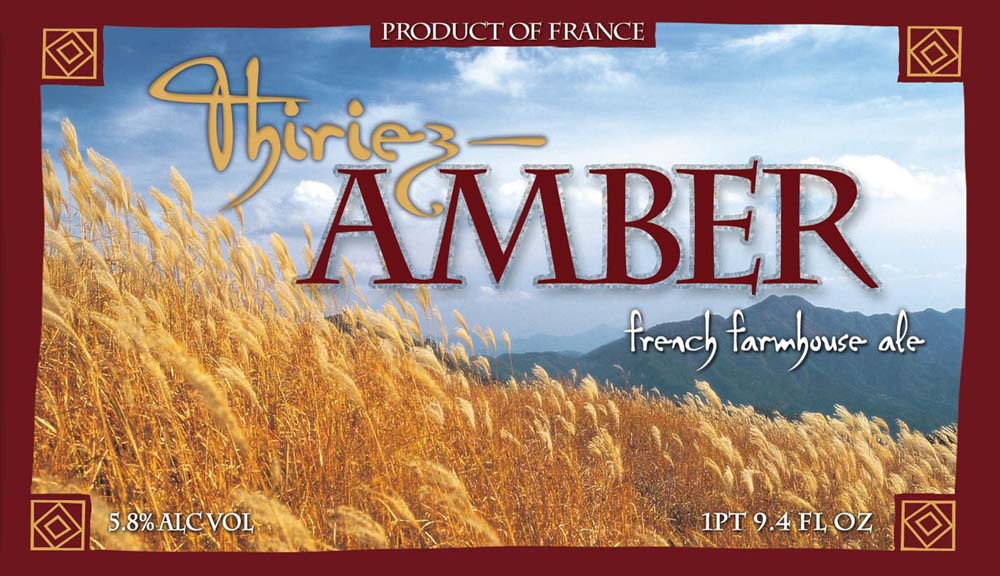 Thiriez Amber
Amber waves of grain . . .
The label says it all: amber waves of grain under a full, blue sky. This is the only beer from the little French farmhouse brewery, Thiriez, that isn't pungent with the aroma of hop bitterness. Instead, Thiriez Amber is a celebration of wholesome, freshly harvested barley malt, and that is what you get in the nose. The barley that grows in the fields of French Flanders (quite close to the border with Belgium) is some of the best in the world. Meanwhile, along with all that pure malt goodness you'll detect a few spicy, earthy notes – just what you want in a real farmhouse brew – that derive from a very special yeast that is exclusive to the Thiriez brewery. Some of the malt is lightly roasted, which lends a mild, nutty flavor, and gives the beer a reddish tinge. It's more of a red beer than an amber one, truth be told.
Daniel Thiriez painstakingly crafts his rustic farmhouse ales in a rustic farmhouse brewery in the beautiful countryside of French Flanders. This brisk Amber Ale is really a luminous golden-red. It is perfectly balanced, with a soft, fresh hop bitterness playing off a hearty whole-grain maltiness, and accented by an entrancing nose of earth and spice that is typical of French farm-country brewing.
Style:
Amber Ale
ABV:
5.8%
Packaging:
750 ml bottles
Other Beers by Brasserie Thiriez