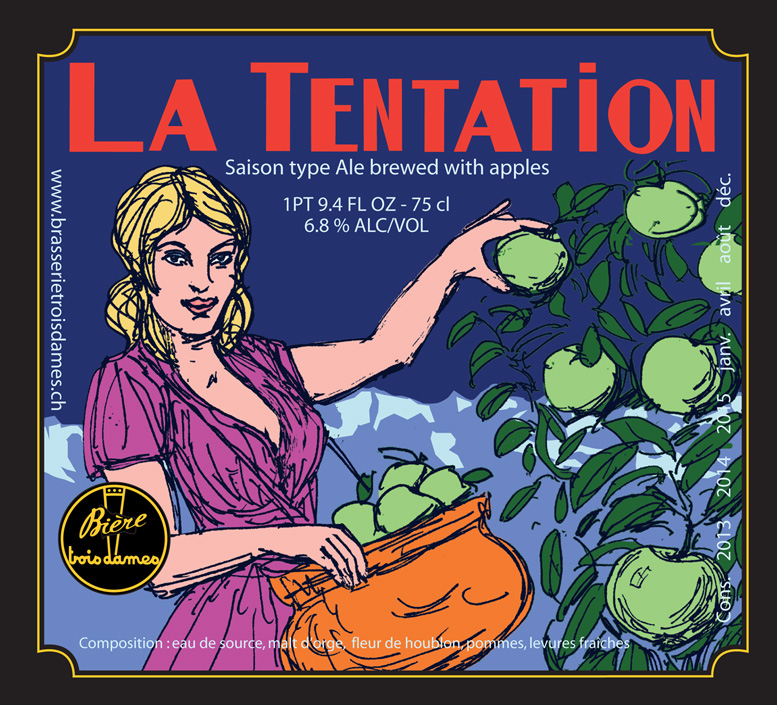 Trois Dames La Tentation
La Tentation blends three different kinds of fermentation. It's a saison recipe that is first fermented with Dupont yeast, followed by a second fermentation with a Belgian witbier yeast which has spent one year maturing in oak barrels. T he final part of the fermentation comes from wild yeasts from an orchard at the foot of the Jura Mountains. T he yeasts and bacteria found naturally on the skin of native Reinette Blanche apples, coupled with months of barrel aging gives La Tentation a very refreshing acidity. This acidity is balanced by apple fruitiness and hop bitterness, which is characteristic of old-style saisons.
Let yourself be tented!
**RIGHT CLICK AND SAVE AS TO DOWNLOAD TROIS DAMES LA TENTATION SELL SHEET HERE**
Style:
Fruit Beer
ABV:
6.80%
Packaging:
bottles, key kegs
Other Beers by Brasserie Trois Dames