The De Ranke brewery was founded by two good friends, Nino Bacelle and Guido Devos. Their story is a classic in Belgium, where the very best craft brewing usually begins as a passionately pursued hobby, not an occupation. For Nino and Guido, brewing is literally a weekend obsession. For a few hours on Friday and Saturday, every week, the marvelous turn-of-the-century Deca Brewery in West Flanders is turned over to the De Ranke brewers, who make small batches of what many consider the best specialty beers of Belgium. Their beers are robust and flavorful, and famous for their massive hoppiness, which comes from the best Hallertau and Brewer's Gold varieties.
This brewery is too young and its production too small to get notice in any of the Belgian beer books yet, but De Ranke is developing an awesome reputation among connoisseurs in Belgium. American beer lovers may ridicule the idea that there is one "best beer" of Belgium, but Belgians themselves are given to such strongly-worded opinions – especially when it comes to De Ranke. Let it suffice to say that these are truly great beers that make a very commanding statement. And from a brewery only four years old! Yeast obtained from the nearby Rodenbach brewery lends that Orval-like "Bret" character to the beers. Above all, be warned: It's a heavy hand that commits the hops to the boil at De Ranke.
The brewery has a very limited capacity, and we were told initially that it was unlikely we could export any of the De Ranke beers to the U.S. Beer lovers also expressed some fear that the quality of the beer might suffer if capacity increased to serve an export market. They actively discouraged us from approaching the brewers. We obtained the blessing of the beer lovers and the brewery, however, by agreeing to take only a small quantity, and to handle the care and marketing of these beers with respect. We are thrilled to have them.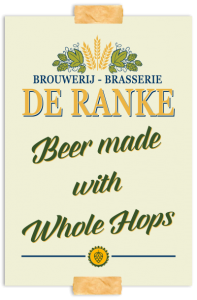 beers