C'mon Get Hoppy!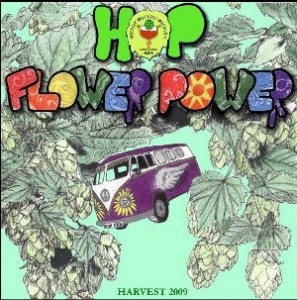 De Ranke H.O.P. Flower Power!
Nino and Guido, meet the Partridge Family . . .
That's what this label looks like, anyway.The quintessential fake-family/fake-rock band's fake-psychedelic mini-bus makes its way through a veritable shit-storm of what almost looks like marijuana, but is in fact Nino and Guido's absolute favorite flower — fragrant, spicy, Hallertauer Mittelfrüh hops. You all remember the Partridges, surely. (You know, Danny Bonaducci's first band?) And if you're reading this, you already know Nino and Guido pretty well. So how did this artistic collaboration come about?
Admittedly, the old Belgian beer appreciation group, De Objectieve BierProevers ('Objective Beer Tasters') has never been among our faves at Shelton Brothers. With their glossy magazine, their suit-and-tie corporate guy at the top, and their tendency to lend support to, and take money from, big Belgian breweries making increasingly bland and lifeless beer, they were definitely going in a direction quite different from ours. But Carl Kins, whom we bump into regularly along the beer geek circuit, from Denver to Copenhagen to Bamberg, is one of the good ones. He doesn't wear a tie, and he doesn't care for big-brewery dreck. He just loves beer, and he loves hops too much — just as Nino and Guido do — so, naturally, when he started up his own splinter group apart from the OBP, he had to come up with something yielding the acronym H.O.P.: Heerlijk Objectief Proeven — which translates approximately as 'Delicious Objective Tests.' You have to be Flemish to understand, I guess.
A few years ago, the O.B.P. lost the guy with the tie, and became a new group called Zythos that cares more about beer than the "beer business." We go to their festival in March every year.
Meanwhile, Carl and his H.O.P. people wanted a limited edition beer to celebrate their fifteenth anniversary this year, and of course they wanted it to be supremely hoppy. They settled on an idea that's been a minor trend in the U.S. and the U.K.: wet-hopping, which is the addition of fresh hops right from the fields that haven't been dried, as hops normally are. To make Belgium's first ever wet-hopped beer, H.O.P. turned to Nino and Guido of De Ranke brewery, the only place in Belgium that makes a point of using only whole hop flowers, all the time. (You will recall that Nino and Guido were the geniuses who, in 1996, invented XX Bitter.) It just happens that 2009 is the 15th anniversary of De Ranke, too, so this collaboration makes sense for at least 15² reasons.
Nino and Guido used Brewer's Gold and Challenger hops for bittering, and Saaz and Mittelfrüh for aroma. The hops added "wet" were also Mittelfrüh. They were picked in early September and tossed into the brew kettle hours later, on September 4th. The first thing you'll notice is a very green, herbal, almost stinging hop wallop. That's the flavor of perfectly fresh Hallertauer hops.
According to Nino:
"We put an enormous amount of 80 kg of wet hops in the kettle. The whole village of Dottignies has been smelling for 2 days. ('Smelling' is maybe not the good word; maybe 'aromatised?'). I think it is the first wet hop beer or Harvest Ale in Belgium. And the taste and aroma are wonderfull!!!"
This hoppy, hoppy, hoppy beer is roughly in the style of a modern saison. Moderate alcohol, at 6%, earthy, sharply bitter, and wholly refreshing. Emphasis on bitter, actually . . .
Thank you Carl. Thank you Nino. Thank you Guido.
This beer will never be made again. We've only got 1200 of the 750ml champagne-type bottles. So if you see it, buy it (before it's gone forever). Regrettably, distribution will be limited to only a handful of states, the ones that have no blood-sucking label registration fees. If you're not living in one of those blessed states, lobby your state legislature now to repeal the label registration laws!
Meanwhile, stay tuned for the daughter of Flower Power, a beer to be named Saison de Dottignies. With luck we might see this in the early Springtime.
P.S. Before some ignorant beer writer starts calling this beer another 'Belgian I.P.A.,' we want to remind everyone that the Belgians have a proud tradition of extremely hoppy, if not over-hopped, beer that goes back much further than the American I.P.A. phenomenon, which is, by our reckoning, not much more than 25 years old. XX Bitter is not a 'Belgian I.P.A.' either. Nino and Guido don't like I.P.A.s. XX Bitter is an attempt to create the ideal version of the beers that Nino and Guido drank in Belgium, before commercialization ruined everything. Any beer that calls itself a Belgian I.P.A. is just pandering to the narcissistic American market. Don't buy it!