Lager Love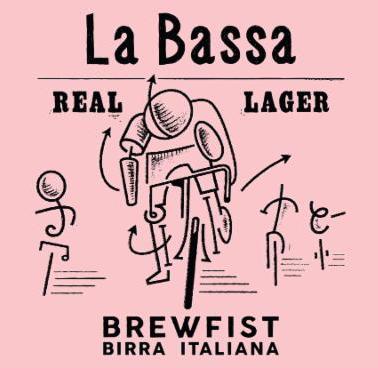 The Shelton kids grew up on lager, and our go-to beer at the dinner table as children was the quite-dry Piels Real Draft. Poured from Dad's 33cL bottle straight into two-ounce un-tilted Dixie Cups for maximum head-retention, "PRD" (just kidding, people used real words in 1970) was, to our young unjaded palates, effervescent, full-enough-bodied, and brimming with what would later be identified as hop flavor. Though we eventually became semi-famous for personally bringing stuff like Lambic and Cask Ale to a wider U.S. audience, in the backs of our minds the word "beer" has in some way always been synonymous with a crisp, straightforward, drinkable golden quaffer with an agreeably subtle bite of bitterness. As they used to say, a "good drinking beer." Today, as the SBs hack and slash their way through the craft beer sales wars armed with the necessary bludgeoning weapons of our time (imperial quadruple stouts and triple-sour XXPAs), we still like to wind down after each battle with a nice, cozy lager. And we're certainly not alone. Here are some of our new and old favorites from around the world.
Though our amici at Italy's Brewfist have in the past featured products with craft-worthy names like Bionic and Fear, at heart they've always been champions of drinkable, balanced, and accessible beers. After many years of challenging the might of the industrial giants with offerings of IPA and stout, they now go to the heart of the matter with their full-circle 5.2% La Bassa Real Italian Lager. From the brewery: "We come from a land of vast fields, morning mist, and unsung heroes called La Bassa. La Bassa means past traditions, strong values, and our own heritage: a real lager." Hey, they feel the same way we do; they just put it more poetically. What we both agree on is that this is the first real "craft" alternative to Italian lager giants like Peroni, and it's actually delicious. Like lager should be, in every country.
Brewfist La Bassa is available in 24/330mL cases.
The Americans helped bring lager brewing to Japan back in the day, and, thanks largely to Yank expat Bryan Baird, have also overseen the craft beer explosion there. Having produced more than a decade's worth of beautifully made ales in his adopted country, Bryan draws upon his solid beer upbringing and training in the USA in creating the 5.5% Numazu Lager, about which he says: "Most people associate the word 'lager' with beers mass-produced by large industrial breweries — light, crisp, and refreshing, but not terribly flavorful. A lager can be more than that, though. Numazu Lager is crisp and refreshing, but also rich in flavor and complexity … a true throw-back lager." We are on the same page with our countryman.
Baird Numazu Lager is available in 24/330mL cases and 20L PubKegs.
Our first import, back in 1996, was Cantillon Lambic. But we were just as excited about the beers that followed — traditional Franconian lagers.
Armand Debelder, of Drie Fonteinen Lambics in Beersel, Belgium, is known for his expertly blended wild ales, but he happens to be a major fan of the unpasteurized, unfiltered lagerbier brewed in the area around Bamberg, Germany. When he decided to create a beer with a "tame" fermentation, the attention to quality he gives to his lambics naturally came into play. Using the same ingredients as a lambic, he brews his 5.2% Beersel Lager with organic barley malt, wheat, hops, beet sugar, and water. The beer is unfiltered and unpasteurized, undergoing a secondary fermentation in the bottle. Beersel's mayor says "We are proud of the organic beer that is named for our town. It contributes to the reputation of Beersel. Moreover, every American knows what the first four letters of 'Beersel' means."
In this case, it means "lager."
Drie Fonteinen Beersel Lager is available in 24/330mL and 30L kegs.
Our sole South American brewer, Brazil's Way Beer, began by challenging the might of their national mega-factories by utilizing indigenous local fruits to craft unique, delicate, lightly sour-ish ales. For us this gave them a very specialized appeal that naturally set them apart from the thousands of competing craft brewers around the world. But they call their hefty, dark 8.4% Amburana Lager (aged in barrels made from local Amburana Cearensis wood) the "most Brazilian beer of Way Beer." The use of a variety of caramelized and roasted malts, along with the barrel maturation, results in a full-bodied beer with hints of vanilla and dried fruit, highlighted by the flavor of the Brazilian wood. As the cervejeiros themselves say, "nice, in a Brazilian way."
Not our (or your) father's beer, but it's also a brave new world of lager out there.
Way Beer Amburana Lager is available in 12/310mL cases and 30L kegs.