Mikkeller Dry Hop Simcoe Vodka
From Mikkeller:
First we make the vodka.
Handmade from the finest winter wheat. The wheat is milled by us, then we cook, ferment, and distill in a copper still. Finally we add the hops. Fine vodka with a hoppy feeling.
The dry hop concept is a Mikkeller touch and a clash of cultures: the beer world and the vodka world meet and unite.
Dry hopping means that we after the actual beer, or in this case the fine vodka, is produced, add small amounts of hops to the liquid in "teabags". The vodka slowly takes in the aromatic aroma and taste from the hops. No bitterness is added to the vodka while dry hopping, the technique adds fragile aromatic oils and leaves a citrusy and refined taste.
We use American hops: Simcoe and Citra. Mikkeller is fond of American hops, we like the floral and fruity notes they give. To experience the taste of two different hop varieties we have made vodka with Simcoe and one with Citra. We do not want to spoil the exclusive vodka, we want to refine. That we did!
Danish people making a traditional Russian drink with American hops; this is the end of the Cold War. Celabrate this by drinking our vodka and become a Mikkeller freak world vodka citizen with a hop hat dancing Trepak while singing the blues in Danish.
Tasting notes:
Based on the finest tall blonde wheat, then distilled five times and blended with Simcoe hops. This Vodka is the new true super premium vodka with an unparalleled smooth feeling and a lovely fresh taste of hops. 44% alc. (88 proof) – yet exceptionally smooth & delicious!
Superb for a straight up shot – with or without ice – or for any vodka based drink or cocktail.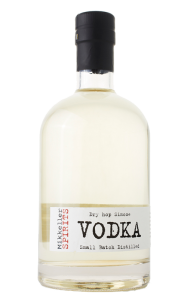 Proof:
88
Packaging:
750ml bottles
Other Products by Mikkeller Spirits