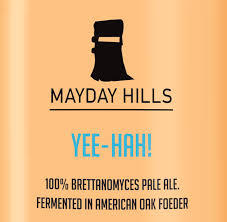 Bridge Road Mayday Hills Yee-Hah!
From the brewer:
"Introducing Mayday Hills…
Mayday hills is a farmhouse beer project from Bridge Road Brewers. These beers are fermented in traditional wooden foedar tanks and reflect our township and the surrounding region. Mayday Hills.
Mayday Hills is a project inspired by a range of influences and experiences from around the globe and at home. Initially from wine and wine making 15 years ago, the through the exposure to sour and wild beer and barrel aging programs of Belgium, and further through new practices in the US craft beer industry and our own experimentation at Bridge Road Brewers.
Mayday hills aims to combine these experiences with local ingredients and influences in the creation of new and unique beer from our brewery in Beechworth.
The first release..
The first release in the range is Yee- Hah.
Yee-Hah is an 100% Brettanomyces Pale Ale fermented in American Oak Foedar."
Style:
Sour Ale
ABV:
6.00%
Packaging:
Kegs
Other Beers by Bridge Road Brewers