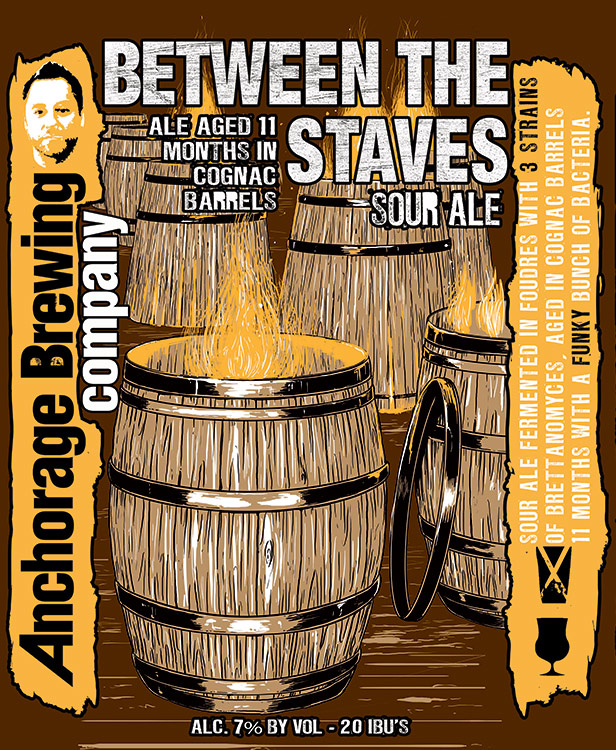 Anchorage/Crooked Stave Between the Staves
From the brewer:
Between the Staves is a sour ale fermented in foudres with three strains of brettanomyces, aged in cognac barrels for eleven months with a funky bunch of bacteria.
Stave /stāv/
1. a singular vertical wooden slat, a thin narrow piece of wood.
–  Collectively used to produce wooden barrels known as casks, bound together by steel metal hoops, these casks were traditionally used to hold liquid goods and other wares.
–  Common species of wood include oak and chestnut.
The art in making beer which is entirely fermented and aged in oak barrels is something most brewers shy away from, especially when the oak barrels are large foeders taking the place of traditional stainless steel fermenters. The uniqueness of foeders and their central role in each of our breweries is what drove much of this collaboration and the friendship between us. Two brewers, no brewhouse of our own, but a passion and drive to make distinctive beers embracing wood. Oh yeah, and we both love Brettanomyces!
What would a beer fermentef in oak foeders taste like if it were not for Brettanomyces? I can't tell you… and I'm not sure I'll ever find out. This creation which brings together Anchorage Brewing Company and Crooked Stave Artisan Beer Project, is an amalgamation of Brettanomyces, Oak Foeders, and an extensive aging period in 350 litre french oak Cognac barrels with a funky bunch of critters. I hope your mind is wandering as much as mine is, because it takes passion, devotion and a lengthy time waiting for a creation such as this.
Enjoy this beer as you would a fine wine, swirl it around in your glass and revel in its beauty. Let the beer open up as it slowly warms and reveals all the subtle nuances from the temperament of the yeast to the elevated barrel characteristics.
Cheers!
Style:
Sour Ale
ABV:
7.00%
Packaging:
750 ml bottles
Other Beers by Anchorage Brewing Company