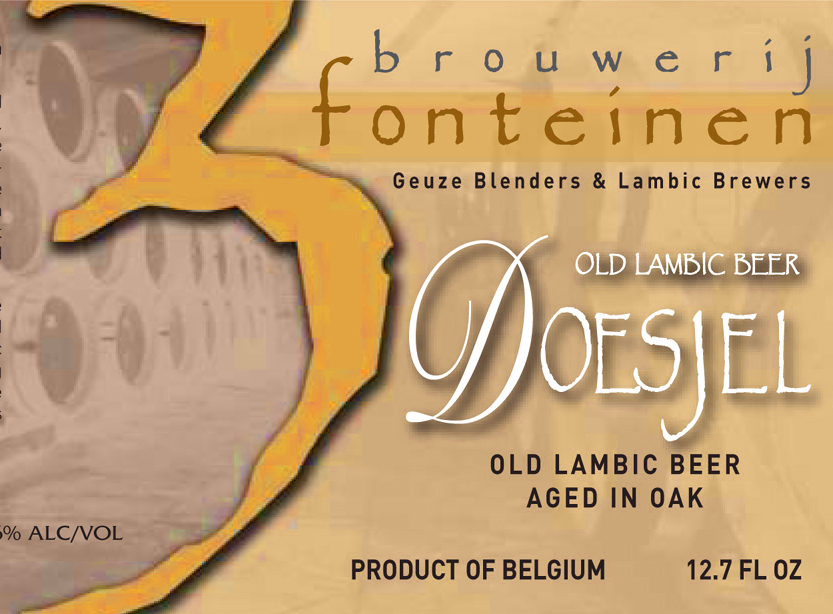 Drie Fonteinen Doesjel Old Lambic
A blend of one, two, and three-year old lambic, fermented and matured in oak casks by wild yeasts carried on the open air. During re-fermentation the younger yeasts have inexplicably gone dormant-knocked off early for a long snooze, you might say – which halts the fermentation, assuring that you will taste the original flavors of the lambics in their purest form. Doesjel, in Flemish, means, roughly, 'Snoozer'. This Doesjel will pour without a foamy head, exactly like unblended lambic. Lambic is brewed only from 60% barley malt, 40% unmalted wheat, hops, and water.
Drie Fonteinen is the only remaining traditional geuze blender in Belgium, using only 100% spontaneously fermented lambik beer, aged in oak casks, with no artificial sweeteners or other additives. The blendery is connected to the very popular Drie Fonteinen Restaurant in Beersel, on the outskirts of Brussels. The proprietor, Armand Debelder, buys pure lambik from three breweries in Belgium, ages them in oak, and blends them, employing the skill, knowledge, and supreme passion for real geuze that his father handed down to him. Drie Fontenein's Geuze and fruit Lambiks (cherry, raspberry) are rare, highly prized, and indisputably among the best of Belgium.
Style:
Lambic
ABV:
6.00%
Packaging:
375 ml bottles
Other Beers by Drie Fonteinen