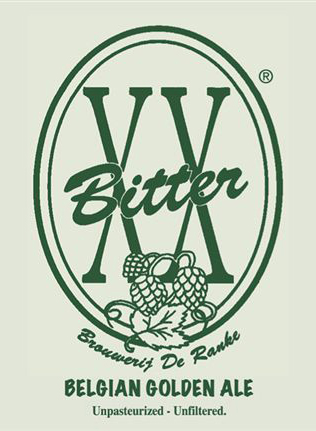 De Ranke XX Bitter
The hoppiest and some say the very best beer of Belgium.
The De Ranke brewery was founded by two good friends, Nino Bacelle and Guido Devos. Their story is a classic in Belgium, where the very best craft brewing usually begins as a passionately pursued hobby, not an occupation. For Nino and Guido, brewing is literally a weekend obsession. For a few hours on Friday and Saturday, every week, the marvelous turn-of-the-century Deca Brewery in West Flanders is turned over to the De Ranke brewers, who make small batches of what many consider the best specialty beers of Belgium. Their beers are robust and flavorful, and famous for their massive hoppiness.
XX Bitter is a very weighty beer, aggressively brewed to be the hoppiest in Belgium. Some more delicate palates are put off right away. Those warriors who accept the challenge, and take time to sort through the barrage of sensory impressions, usually end up loving it. It is first of all remarkably hoppy – and it persists in its hoppiness unto the bitter end – but it does not want for balancing maltiness. In the middle is a "barnyard" Brettanomyces yeast character that is very reminiscent of Orval in its heyday.
You might say this beer is Orval with everything turned up to 11, which is exactly what the brewers were seeking.
Style:
Blonde Ale
ABV:
6.00%
Packaging:
330ml bottles, 750ml bottles, 30L kegs
Other Beers by De Ranke