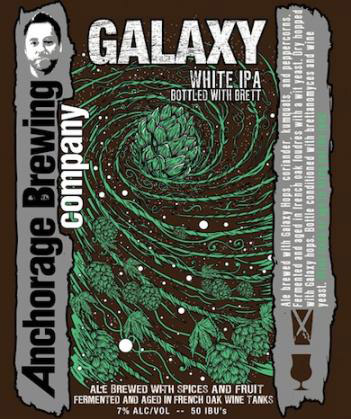 Anchorage Galaxy IPA
Exploration and innovation have always been hallmarks of mankind. The same spirit that sent pathfinders, like Captain Cook, sailing from Britain to the shores of Australia and the rocky coastlines of Alaska animates today's trailblazers. Wherever you find a frontier, be it the Final Frontier of our Milky Way, the Last Frontier of the Great Land, or the frontiers of scientific knowledge, there you will also find dedicated men and women, taking risks to break trail for the rest of us.
One of the new trails being blazed on the frontier of beer is the style known as White India Pale Ales. Galaxy White IPA represents a significant new landmark on that trail. With its use of fresh kumquats, Indian coriander, and black peppercorns, Galaxy pays homage to the early explorers, who sailed unknown seas in search of rare spices and exotic fruits. Captain Cook travelled from Australia to Alaska, and so have the Galaxy hops used to create this adventurous brew. Just as a true explorer never stands still, the presence of brettanomyces guarantees that Galaxy White IPA will keep evolving in the bottle for years to come.
So take a step from the known into the unknown. Cross the frontier from the commonplace into the extraordinary. Be the first to gaze upon an undiscovered country and return to tell the tale to those timid souls you left behind. After all, there's an entire Galaxy waiting to be explored
Style:
IPA
ABV:
7.00%
Packaging:
750ml bottles
Other Beers by Anchorage Brewing Company