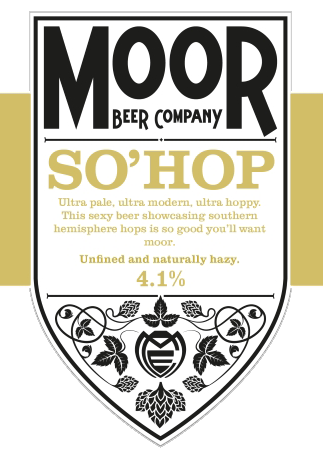 Moor So'Hop
From the brewer:
"Homebrewer (future pro?) Casey Letellier provided the inspiration for this New World beer. After a day of brewing with me he kindly brought several bottles of homebrew. One of them was a pale ale hopped with a variety I had never had before – Riwaka from New Zealand. From the first mouthful I knew I had to brew with that hop. I was on the phone the next day with the hop merchants, but it would not be coming to the UK for another 10 months. I checked back often, even tracking the progress of the boat as it approached (delayed, of course!).
My memory of the power of that hop was so vivid. I did not want to have it compete for flavour with coloured malts, but there needed to be a balancing malt flavour to enhance drinkability. I managed to source a low coloured cara malt – difficult to malt, difficult to crush and very inefficient to work with, but adding good body and some honeyed sweetness. Rather than use traditional pale malt I went with a lighter lager malt to both lighten the colour and alter the malt profile.
Hops from New Zealand apparently come super-vac packed. The package was about half the size of a normal bag for the same weight. I hesitantly opened the bag, hoping my memory wasn't all roses. And I was far from disappointed! Uncle Fester was at the other end of the brewery about 50 metres away and could smell them from there even before I pulled the hops out of the bag. We still talk about that as one of our defining brewing moments. The brew day proceeded as normal until the transfer of the wort to the fermenter. Apart from the amazing aroma, the wort was pouring with an unmistakable green tinge.
As with any natural product, hops can change over time. Sadly, Riwaka has not been a variety that's developed well in successive crops. After several years of declining quality we said farewell to Riwaka in 2012 but managed to succeed it with an even more impressive hop from the Southern Hemisphere, keeping the soul of the beer intact. See if you can guess which one it is.
The resultant beer still remains one of the favourites of many people. Months after we ran out landlords were still asking for more. We endeavour to rotate our Hop beers permanently with Nor' Hop in spring – summer and So' Hop autumn – winter.
Thanks again Casey!"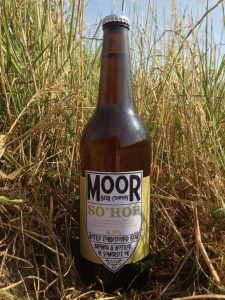 Style:
Golden Ale
ABV:
4.10%
Packaging:
30L kegs
Other Beers by Moor Beer Company