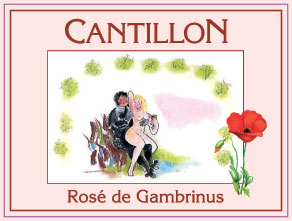 Cantillon Rosé De Gambrinus
"The most famous framboise," according to beer writer Michael Jackson, and an undisputed World Classic – fully authentic, tart, not sweetened with sugar or syrup like all the rest.
Whole fresh raspberries are fermented in oak casks of Belgium's classic beer – beer fermented by wild yeasts borne on the open air. Very dry, tart, and fruity, but also funky and complex, as a natural lambic should be. This is the real thing – definitely not one of those artificially sweetened soda-pop beers.
Style:
Fruit Beer
ABV:
5.00%
Packaging:
375ml cork-finished bottles, 750ml cork-finished bottles, 30L kegs
Other Beers by Cantillon