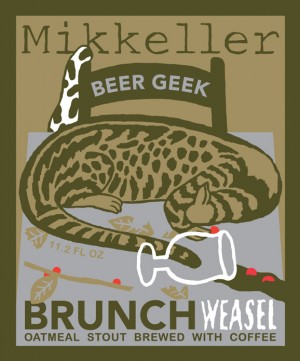 Mikkeller Beer Geek Brunch Weasel
From Mikkeller's website:
"This imperial Oatmeal stout is brewed with one of the world's most expensive coffees, made from droppings of weasel-like civet cats. The fussy Southeast Asian animals only eat the best and ripest coffee berries. Enzymes in their digestive system help to break down the bean. Workers collect the bean-containing droppings for Civet or Weasel Coffee. The exceedingly rare Civet Coffee has a strong taste and an even stronger aroma."
A note from Mikkeller about the coffee they use (Sept.19,2013):
"With the last days talk (http://korturl.dk/6b3) about cruel treatment of Kopi Luwak producing civets it is important for us to say this:
We do not use Kopi Luwak from Indonesia in Beer Geek brunch Weasel. We use the Vietnamese variety cà phê Chồn.
We have been aware since we started using cà phê Chồn in 2008 that not all civet coffee world wide is produced with the best care and respect of the cats. Therefor we searched for and found one supplier of cà phê Chồn that treats the animals with respect and dignity.
This is a link to our producer, whom we have been in close contact with since we started working with them: http://choncoffee.com/
We use cà phê Chồn mainly or it's special flavor (no bitterness) that compliments the beer greatly. With that said we might look into using a natural enzyme simulated version in the future."
Style:
Stout
ABV:
10.9%
Packaging:
500 ml bottles
Other Beers by Mikkeller