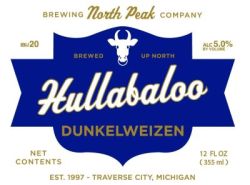 North Peak Hullabaloo
From the brewer:
"A blend of American ale and Bavarian Hefeweizen yeasts. Pilsner, wheat, and chocolate malts combined with European hops result in a unique brew with prominent chocolate character. "
---
Please note North Peak's beers are only available through Shelton Brothers in the following states: CA, FL, IN, KY & MO.
Style:
dunkelweizen
ABV:
5.50%
Packaging:
Kegs and 355ml bottles
Other Beers by North Peak Brewing Company