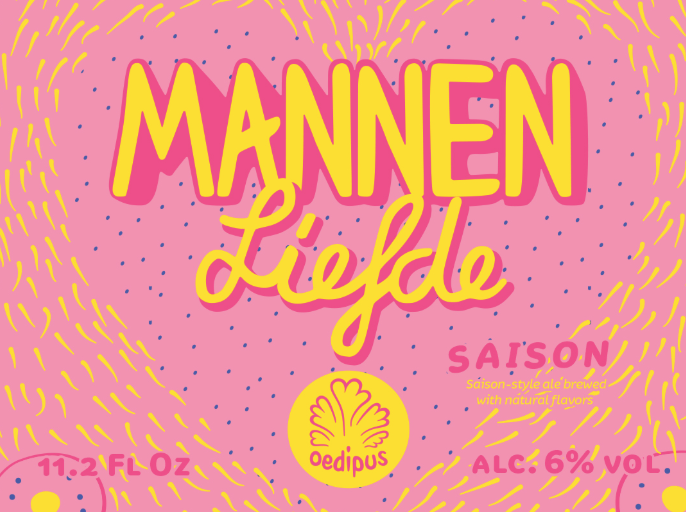 Oedipus Mannenliefde
From the brewer:
"Mannenliefde was our first beer. A fresh Saison that aims to free beer from stereotypes and preconceptions with its hints of lemon grass, Szechuan pepper and fruity Sorachi Ace hops.
Man-o-Man-o-Man! In the beer world, it always seems to be about men. For decades now, all big (and small) breweries use a lens constantly filtered to the perceived desires of men – men watching football together, macho men, hipster men, successful businessmen, sweaty festival-going men, etc. What's up with all these stereotypes anyways? With our first beer we wanted to make a statement. We wanted to create an enjoyable beer for everyone, targeted at a beer world that wasn't only about men.
So there we were, in the summer of 2012, wracking our brains for a catchy name to match our more vulnerable and open approach to brewing. Having successfully made several batches of this recipe, we were now determined to produce it at a commercial scale. After hours of debating, drinking and even shouting out random words at one another, the time came to decide. Our reasoning, a sort of ex post facto psychoanalysis, came to be: we are just men, with love in our hearts. Love for each other, love for brewing and a serious love of sharing our beer with everyone. Mannenliefde ('Men-love') is our expression to all beer drinkers as men who love.
With the name in place and the recipe perfected, our first commercial beer was born! A 6% ABV Saison – which, at the time, was not a very common style, but even then retained its own unique character. It is middling in that is not extremely bitter and absolutely not sweet. Fresh with a dry and smooth aftertaste, lemon grass adds freshness, Szechuan pepper bestows a bit of bite and the use of Sorachi ace hops contributes fruity aromas.
Mannenliefde is a brew to free beer from stereotypes and preconceptions by changing the way people think about and drink beer. This is why you will find a soft, bare-chested man on the label. He's very open, as if ready to embrace you, because this is a brew made by men with love for everyone!
Mannenliefde is a Saison style beer and Saison style beers should be dry. Why? This has to do with the yeast, a key component in producing both the dryness and distinct flavor of a Saison. The yeasts strain(s) used in a Saison attenuate highly, meaning they eat up all available sugars and produce a dry beer.
Since a brewer can manipulate different yeast strains to produce different flavors, we opt for a fermentation that yields fruity, but mostly spicy flavors. Our goal with Mannenliefde was to combine the natural spiciness of the yeast with ingredients like Szechuan peppers and lemongrass, and by adding a hop component (Japanese Sorachi Ace hops).
The base beer is quite simple, so to add the perception of body we added a bit of colored malts and some wheat malt. The end product – Mannenliefde – is essentially a yeast-forward, dry beer combined with the flavor of spice and hops. Most of the hops and spices have been added at the end of the boil to preserve their flavor and aroma."
Style:
Saison
ABV:
6.00%
Packaging:
30L KeyKeg
Other Beers by Oedipus Brewing