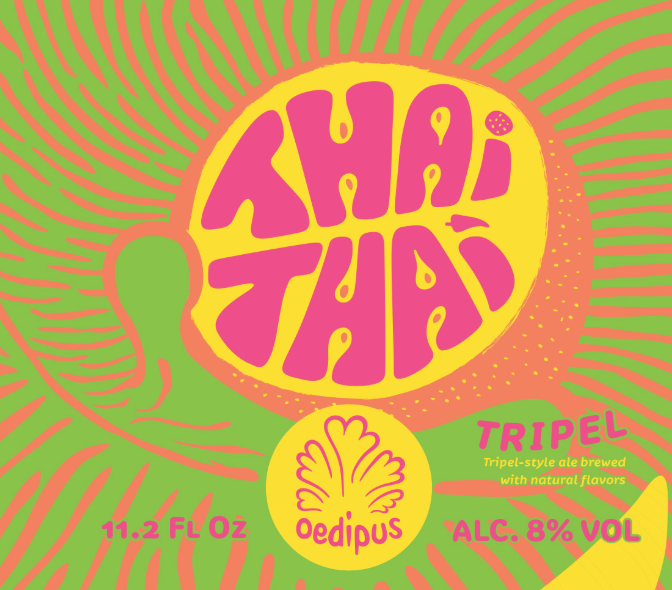 Oedipus Thai Thai
From the brewer:
"Thai Thai is a Tripel unlike any other you've tried before. With the addition of galangal root, cilantro, coriander, chili pepper and orange peel it is like a complete Thai dish in a glass.
Thai Thai came into existence during our homebrewing days. Back then we were mainly into dry, hoppy beers – the kind that eventually rocketed us into creating Gaia. Enter Paul's girlfriend, who is not the typical 'hophead' and wanted something more to her liking. Instead she appreciates sweet, stronger ales and asked us if we were willing to brew her a beer with ginger.
Since ginger beers are generally dry, we thought to move away from our comfort zone and preferred style by deferring to her preference for a sweet and strong beer. After all, we knew sweet with spicy herbs to be a winning combination in Thai cuisine. Yet, our brews aren't about people, they are inspired by the range, color and depth of people's tastes… So we also wanted to give this new beer the Oedibrew twist.
One visit to the local market in Amsterdam's Chinatown provided us with just the sensory inspiration we needed. Initially there to buy ginger, soon our basket was brimming with striking red chili peppers, coriander, pungent lemon grass, oranges and galangal root (from the ginger family). We discovered the entire spectrum of Thai spices, and then added them to our beer!
Thai Thai is more than a Belgian Tripel, it's sort of a spicy Thai dish that's trapped in a beer. The pepper, like the crackle of a wintertime fire, builds nicely. This is a fresh and spicy Tripel that is not overly sweet, but keeps you warm all year round."
Style:
Tripel
ABV:
8.00%
Packaging:
30L KeyKegs and 330 ml bottles
Other Beers by Oedipus Brewing