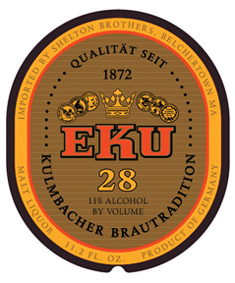 EKU 28
In the early 1950's, the EKU brewery of Kulmbach, Germany set out to make the world's "biggest" beer. Naturally, it would be done according to the Bavarian Purity Law, using nothing but barley malt, yeast, hops, and water. However, beer yeasts are not the hardiest of organisms — too much of the alcohol that they produce will kill them, stopping the fermentation process cold.
But the ingenious EKU brewers had a plan: to take traditional techniques of bock beer brewing to the extreme. Malt concentration was doubled or tripled (the exact formula still remains secret), giving the yeasts more fuel for conversion to alcohol. Above all, since stunned yeast can only work very slowly in the presence of high alcohol levels, this beer would have to be given a lot of time. In fact, it had to be fermented in cold storage for an unheard of nine months! After those nine months, EKU 28 was born.
This world-famous beer was made for moments of quiet contemplation or warm conversation amongst friends. EKU 28 is a fabled after-dinner digestif, a splendid winter warmer, or a soothing nightcap in any season.
The four-star World Classic 'strongest beer in the world' – tastes great, more filling.
Style:
Bock
ABV:
11.0%
Packaging:
330 ml bottles
Other Beers by Kulmbacher Brauerei