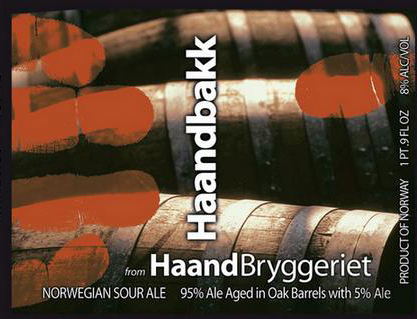 Haandbryggeriet Haandbakk
The gentlemen at Haandbryggeriet have gone where no Norwegian brewer has gone for over a century: they've gone wild.
Wild yeast, that is. For the first time in more than a hundred years, a sour beer using wild yeast and lactic acid bacteria has come to life in Norway. It all started back in 2006 when oak barrels arrived from a vineyard in Burgundy. Although they arrived empty, they didn't arrive empty-handed. These vessels had been maturing red wine for five seasons and were brimming with wild, lactic, life. The time that they spent in contact with wine left loads of wild bacteria and yeast in the wood, ready to impart sourness to whatever entered the barrels.
In September of the same year, the brewing of Haandbaak began. The brewers began with a base beer fermented with their house yeast. This base then received a mix of wild yeasts and was transferred to the Burgundian barrels. As it happily relaxed in the oak, it soaked up more wild character from the bacteria and yeasts waiting in the wood. This oaky interaction lent a complexity to the beer that can't be reproduced in industrial brewing. The beauty of wild yeasts, and what also makes these brewers so brave, is that they are uncontrollable: you never know what you are going to get.
In the case of Haandbakk Vintage 2006, what we get is elegance. This vintage was bottled on March 22, 2008 and is blended for roundness but still very sour. The brewers are proud of their first attempt at a sour ale. They fearlessly took on the wild yeasts and succeeded. Look for future vintages; they will definitely brew it again.
Style:
Fruit Beer
ABV:
8.5%
Packaging:
500 ml bottles
Other Beers by Haandbryggeriet