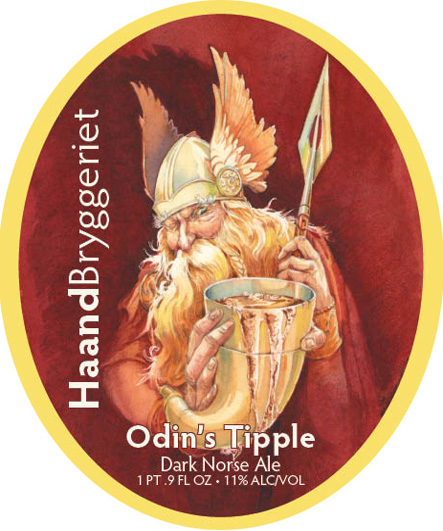 Haandbryggeriet Odin's Tipple
Odin, the chief god of Norse mythology, was a forceful but complicated being of many moods – the symbol of battle, victory, and death, but also of wisdom, poetry, and prophecy.
With this hearty, complex ale, the 'Hand' brewers imagine Odin in later years, when his victories on the battlefield were but shadowy memories, his reflections tended toward loftier themes such as life's meaning, and his drink would have been a deep, dark, and contemplative one.
The beer was originally meant to be a Strong Ale, but the brewers decided to focus on making great beer without extreme alcohol. At approximately 11% ABV, Haandbryggeriet says Odin's Tipple has a great body without being "old engine oil" and it "is still very drinkable due to the wild yeast we use". The beer is made with a single strain of wild yeast and the brewers keep it simple. No added coffee or chocolate; the deep dark color and rich flavor come from lots and lots of chocolate malt.
Style:
Imperial Stout
ABV:
11.0%
Packaging:
500 ml bottles,30L kegs
Other Beers by Haandbryggeriet