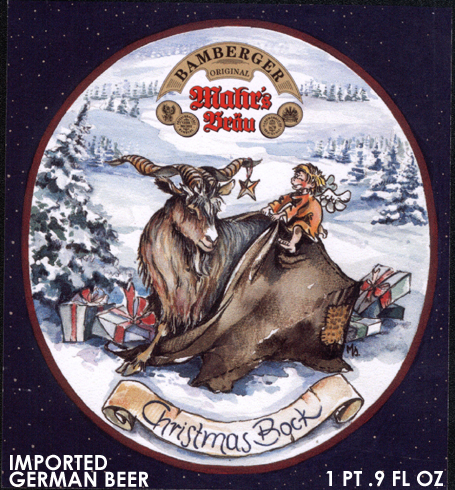 Mahr's Christmas Bock
Well, Ho-ho-freakin'-ho! There is no better Christmas beer in Germany than this one from famous Mahr's-Bräu, in beautiful baroque Bamberg – Germany's renowned city of craft breweries. Not too sweet, nicely balanced with a delicate hop bitterness, this is a bock beer that you can drink forever . . .
Darker and hoppier than the brewery's regular bock, this robust, flavorful bock was brewed especially for the holiday season. This is a brand-new offering from Mahr's that sold out in two hours at the brewery. In the words of Stephan Michel, the brewer, "Dude. It's killer." Only a few hundred cases were produced for the USA, so get it while you can.
Style:
Bock
ABV:
6.0%
Packaging:
500 ml bottles, 20L gravity kegs,30L kegs
Other Beers by Mahr's Bräu