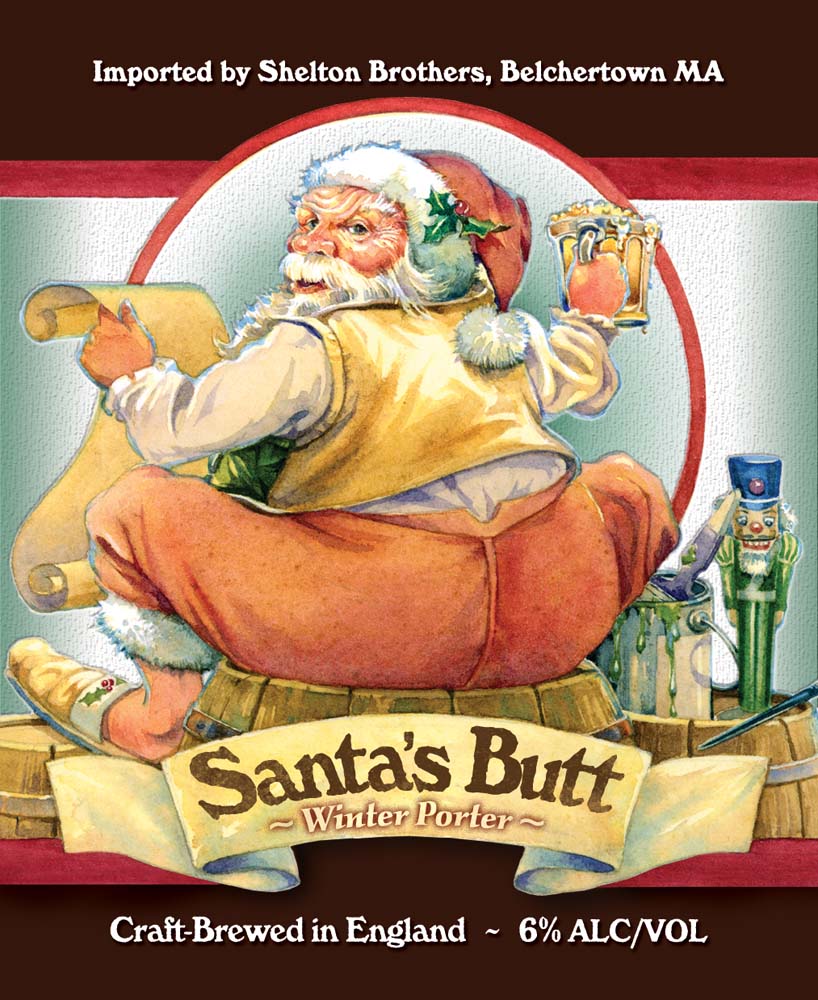 Ridgeway Santa's Butt
They said it couldn't be done, but we did it: Santa's Butt, the beer, coming to a theater near you for the holidays. It's a splendid, satisfying Winter Porter at 6% — a souped-up version of the classic Entire Butt Porter that you've enjoyed in the past. Everyone wants a piece of Santa's Butt.
This special porter is made for winter — rich and warming, the way they like it in the North Pole. It was inspired by this famous line from a well-loved children's story book:
"And Santa sat on his great butt, drinking a hearty brew."
In case you find that amusing, we hasten to point out that in England 'butt' refers to a certain barrel used in brewing — a very large barrel, in fact, holding 108 imperial gallons. Back in the day it was quite a normal thing for a brewery to put its beer up in a large butt for storage.
Still snickering, eh? Get your mind out of the gutter or Santa will skip your house entirely this year.
The illustration for the Santa's Butt label was painted by Massachusetts artist Gary Lippincott. Go to his web site and buy something for chrissakes. The poor guy works for beer.
**DOWNLOAD RIDGEWAY SANTA'S BUTT SELL SHEET HERE**
Style:
Porter
ABV:
6.0%
Packaging:
500ml bottle, cask, 30L keg
Other Beers by Ridgeway