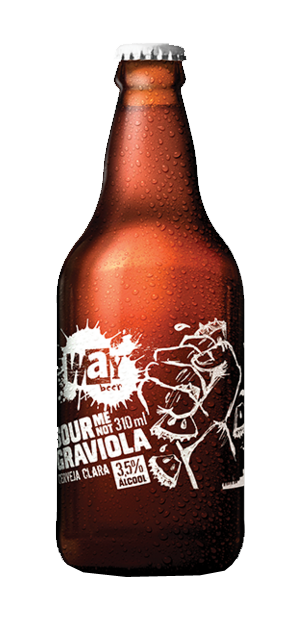 Way Beer Sour Me Not Graviola
From the brewer:
"The Sour Me Not Graviola is a beer from the Sour Me Not series. It's possible to smell really clearly the fruit scent. The graviola is a little known fruit in some regions of Brazil. And it was betting on that that Way chose it's incomparable flavor and scent to be a part of this series.
COMPOSITION
Observing the world trend of the Sour beers, Way decided to produce the series Sour Me Not, the first commercial beers in Brazil. The acidity of these beers usually outcrop our senses, which means, it's good to be served in cocktails, with entrees or to acompany greasier dishes, contrasting flavors and creating the perfect harmony. The acidity predominates and it's lightly salted, a beer with low alcohol content and light body.
STYLE
In the process of fabrication, the fruit ferments with the other ingredients, and it's in the fermentation with bacterias that the acidity is produced. Only at the end of the process the beer is filtered. It has a 3,5% alcohol content, usually served in flute glasses, the same one used for sparkling wine, keeping the bubbles of the drink for a while longer. It is recommended to be served at the temperature of 5ºC to 7ºC (41F to 44.6F)."
Style:
Sour Ale
ABV:
3.50%
Packaging:
30L Kegs and 310ml bottles
Other Beers by Way Beer