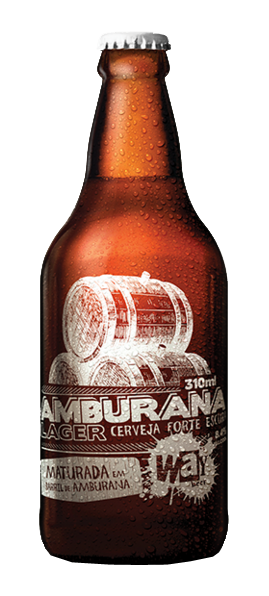 Way Beer Amburana Lager
From the brewer:
The Amburana Lager is the most Brazilian beer of Way Beer. With hints of vanilla and dry fruit, it goes through a process of maturation inside a barrel of Amburana cearensis, a genuinely national wood. The result is a darker beer, full-bodied, of high alcohol content and nice in a Brazilian way.
COMPOSITION
The Amburana Lager is a beer with low fermentation that receives a variety of caramelized and roasted malts, highlighting the flavor of the Brazilian wood Amburana cearensis. It has a alcohol content of 8,4%. The ideal glass for consumption is the same used to serve cognac, denominated of Sommelier, Balloon or Snifter. The temperature of the beer must be between 7ºC and 10ºC (44.6F to 50F) to be served
STYLE
The Amburana Lager is a Specialty Beer created to highlight the characteristics of the wood. With the Brazilian creativity, Way put together the international trend of using wood in beer and instead of oak, chose the national Amburana. Today it is one of the most different beers and with more identity of the Way Beer.
Style:
Lager
ABV:
8.40%
Packaging:
30L Kegs and 310ml bottles
Other Beers by Way Beer