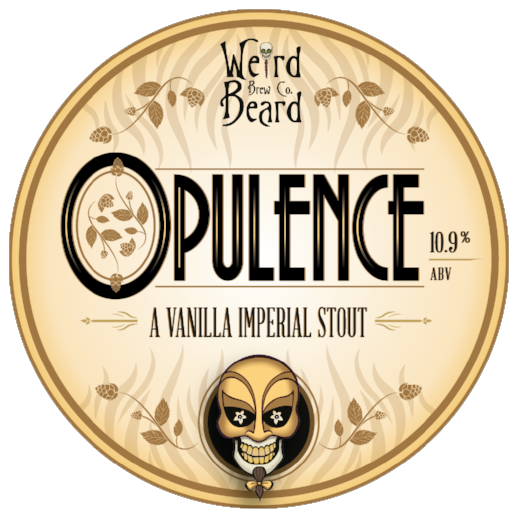 Weird Beard Opulence
From the brewer:
"When we hit a milestone – our 400th brew – and the WEIRDos out there will know we celebrate our centurion brews in style. The brief was simple: take an existing WB beer, beef it up and give it a damn good twist. Decadence was the chosen victim this time around, and we were going to lace it with vanilla.
Decadence is a great base on which to build an imperial stout. It's a proper, honest ale, rich in malty goodness and appropriately bitter. We wanted to stay true to the original – it just needed to be more; more of everything. And what's 'more' than decadence? Opulence. Name and vision established, we got on with the recipe.
We knew we wanted huge body, and an increase in mash temperature alone wasn't going to achieve that. We definitely weren't going down the lactose route either – personally, I think that's been overused by brewers lately.
If you're looking for body, a good place to start is with oats. Decadence already has a substantial dose but we upped it as much as we dared in a single infusion mash, really pushing it to the limit. This added a rich creaminess that complements the star of the show, the vanilla.
We weren't worried about the potential astringency of a heavy oat addition – this is an imperial stout after all. We were just concerned about getting a stuck mash. The brewers amongst you will know what I'm talking about. It's like trying to run off liquid from a thick porridge.
The hopping schedule was suitably scaled up to balance out the additional sweetness from the increased Original Gravity. The bitterness would also interplay nicely with the deep, dark flavour of the vanilla.
In its purist form, vanilla is one of those intoxicating ingredients that conjures up images of far-off lands. It's seriously like a drug. We bought the best raw ingredient our money could buy. The moment our boxes of class A Madagascan vanilla arrived, we knew they were going to lift Opulence to another level. The huge pods were so plump and supple, we couldn't wait to slice one open. It was stuffed full of caviar, the main flavour component of the pod, which filled the room with its aroma. With one down, only another 499 left to hand slice and scrape. Time-consuming but well worth it for a very special 400th brew.
Much like a fine wine or a whisky, the mark of a really good imperial stout is the length and complexity of its finish. The drinker is taken on a journey, rising and falling along a wave of flavours. Here, it's the vanilla that's providing the transportation, through the nuances of this dark and daring stout. Go enjoy the ride."
Style:
Imperial Stout
ABV:
10.90%
Packaging:
KeyKegs
Other Beers by Weird Beard