From the nice folks at Weird Beard:
"Weird Beard Brew Co are two award-winning homebrewers wanting to take their passion for drinking and creating great hand-crafted beers out of the kitchen and beyond the garage.
After winning prizes in homebrew competitions at both the local and national level, coupled with great feedback from fellow beer geeks, Gregg and Bryan made the decision to take this passion to the next level and go pro.
No gimmicks, no crap and never knowingly under hopped. Just great hand-crafted beer brewed in West London with the best ingredients, knowledge, and respect for process, and a little insanity.
But why stop there? We don't believe in being stereotyped. We love upfront in-your-face hop focused beers, but are we only going to brew these? Hell no! We love beer, and we will brew whatever we want, whenever it suits us.
At Weird Beard we aim to continue making experimental, no-holds-barred beers that we feel excited about and we want to drink.
Inspired by the American and burgeoning British craft beer movement, along with great music, exquisite food, epic beards, and the outstanding beer community in our hometown of London, Weird Beard Brew Co will not compromise on anything to bring the best flavours to the beer, whether it is the roasted specialty grains in a stout or the newest hops in an IPA. We create beers that push the boundaries of style, forcing the consumer to stop and think about the drink in front of them, to confront the misconceptions of what ale and beer should or can be, and who drinks it?
And before you ask, yes, Gregg and Bryan do sport some very impressive facial hair. Here at Weird Beard Brew Co we are all about the beards, but not so much the sandals. We are passionate about good beer, no matter where it comes from or how it is dispensed. You will find us in bottle shops, on cask in real ale pubs and in the best London beer bars on keg.
Weird Beard Brew Co is a full on, no compromise brewery, brewing great tasting and genre-busting beers…hold on to your taste buds and come along for the ride!
NO GIMMICKS, NO CRAP AND NEVER KNOWINGLY UNDER HOPPED.
JUST GREAT HANDCRAFTED BEER BREWED IN WEST LONDON."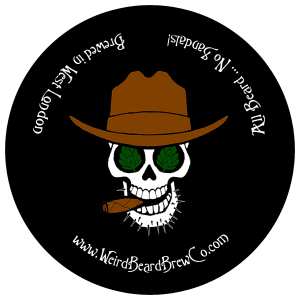 beers