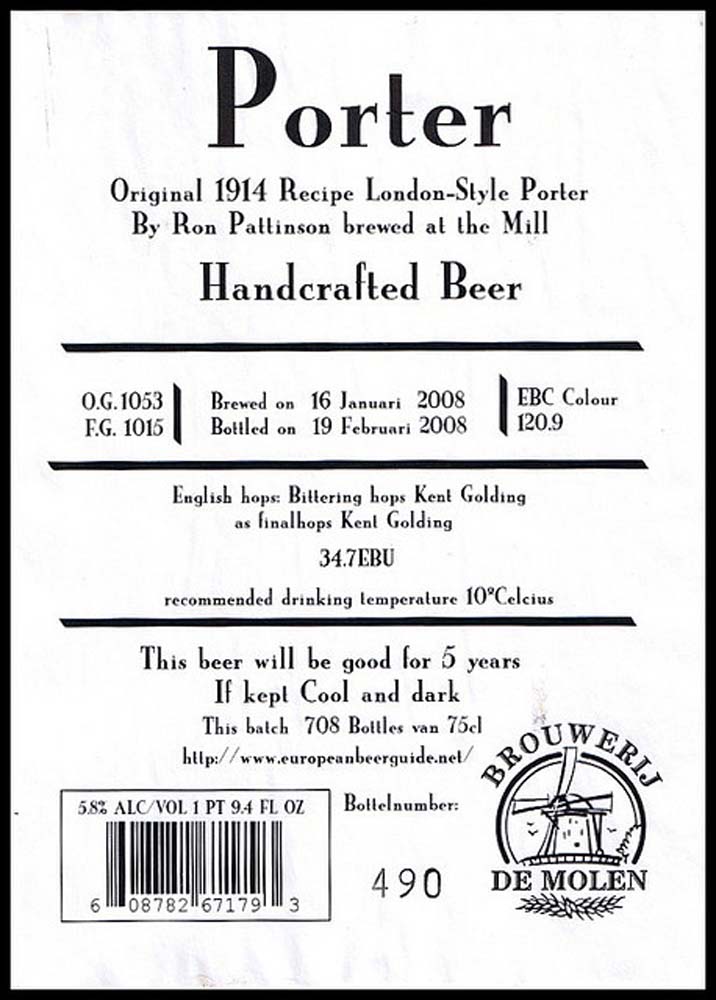 De Molen London Porter
The Original Porter. Or a recreation, at least.
Beer historian, and respected blogger, Ron Pattinson collaborated with De Molen brewmaster Menno Olivier on this historic treat. It's a taste of what the "original porter", brewed by London's Whitbread Brewery, would be like without having to travel back to pre-WWI days. Whitbread was known to be one of the largest producers of porters during this time and brewed their original porter on August 1, 1914, only a few weeks before the outbreak of World War I.
Pattinson also collaborated with Olivier on De Molen's Triple Stout, another historic reproduction. According to Pattinson, he chose these recipes because he wanted to:
show what British beers were like before the dramatic changes of WWI
demonstrate the relationship between British Porter and Stout
show the defining characteristic of London Porter and Stout – the use of brown malt
Both beers were brewed in extremely limited quantities. Even Pattinson himself laments how difficult they are to get his hands on: he only received 6 bottles of each. De Molen shared the remaining 754 bottles with us.
Click here to visit Pattinson's blog, "Shut up about Barclay Perkins"
Style:
Porter
ABV:
5.8%
Packaging:
750 ml cork-finished bottles, 30L kegs
Other Beers by De Molen