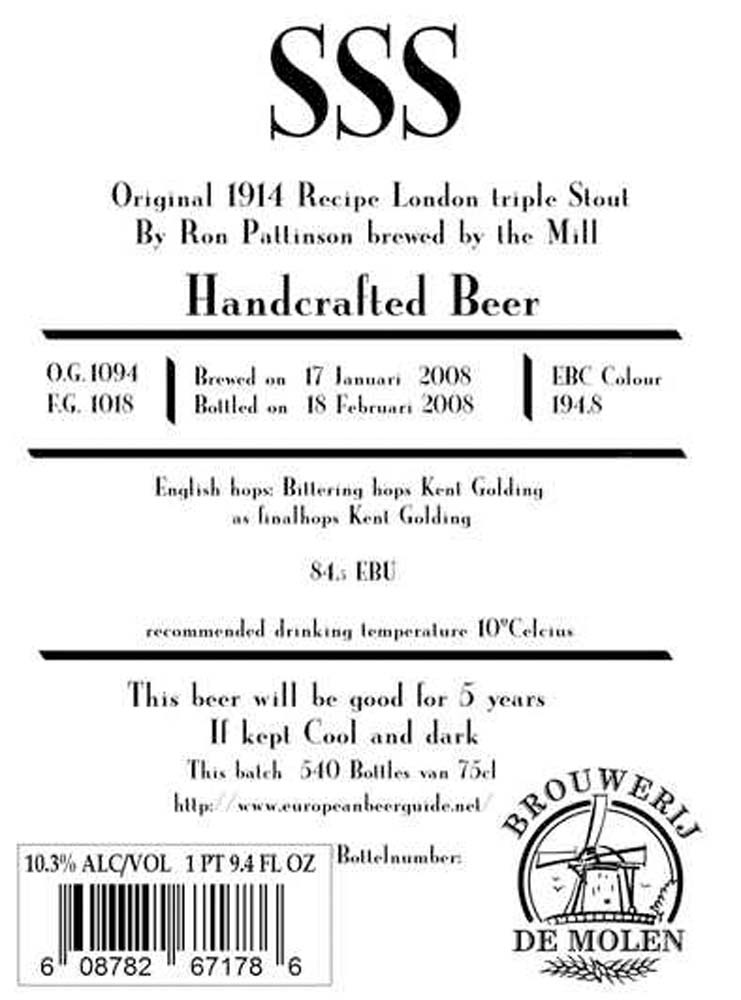 De Molen Triple Stout
SSS Triple Stout was a collaborative brew between brewmaster Menno Olivier and beer historian and respected blogger Ron Pattinson. The recipe is Pattinson's recreation of a triple stout from 1914 London. The original was brewed on July 8th 1914 right at World War I was beginning. Pattinson mentions that considering its strength, this original brew of SSS was very large – 230 barrels.
Pattinson also collaborated with Olivier on De Molen's London Porter, another historic reproduction. According to Pattinson, he chose these recipes because he wanted to:
-show what British beers were like before the dramatic changes of WW I
-demonstrate the relationship between British Porter and Stout
-show the defining characteristic of London Porter and Stout – the use of brown malt
Both beers were brewed in extremely limited quantities. Even Pattinson himself laments how difficult they are to get his hands on: he only received 6 bottles of each. De Molen shared the remaining 754 bottles with us.
Click here to visit Pattinson's blog, "Shut up about Barclay Perkins"
Style:
Stout
ABV:
10.3%
Packaging:
750 ml cork-finished bottles, 30L kegs
Other Beers by De Molen