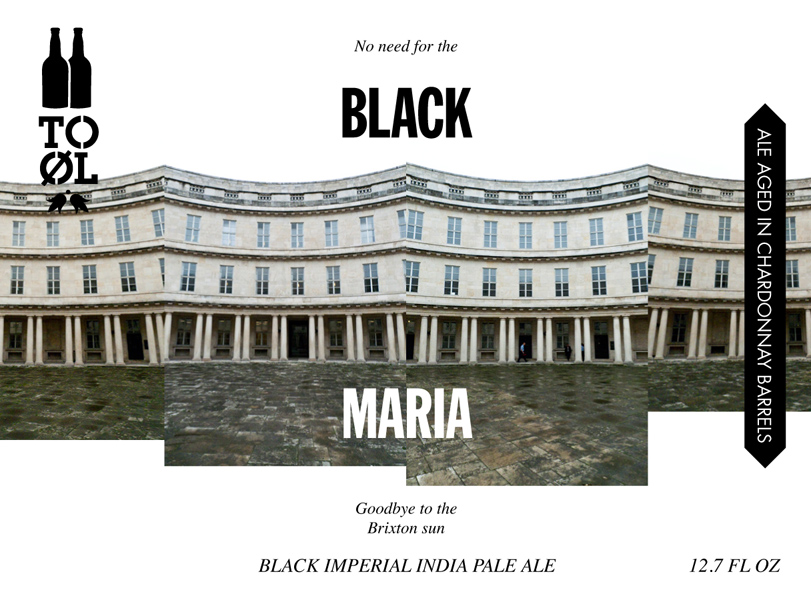 To Øl Black Maria
From the brewer:
Black Maria is an American inspired Black IPA. It is black as an stout and hoppy as an IPA. The beer has been brewed with a good amount of highly roasted Carafa Malts, but with a relatively low amount of caramel and chocolate malts. This way we get the burned bitter and delicate chocolate notes in the beers, that goes well with the bitter and fruity aromas of the hops. The lack of caramel and chocolate results in less residual sweetness that you normally pick up from an Stout. For the hops we wanted some hops that could stand up against the Carafa malts. Therefore we used a mix of Columbus, Centennial, Galaxy and Cascade for the hop profile.
Words from the label designer Kasper about the label:
The label shows the inner yard of the Copenhagen Police Yard folded out on 4 pictures with a quote and a name merged together. The shitty tree on the neck-wrap stands in contrast to the main labels monumental expression. The police is as fake as the quality of the wood. The label is dedicated to police commander Bjarne.
Style:
Black IPA
ABV:
8.10%
Other Beers by To Øl