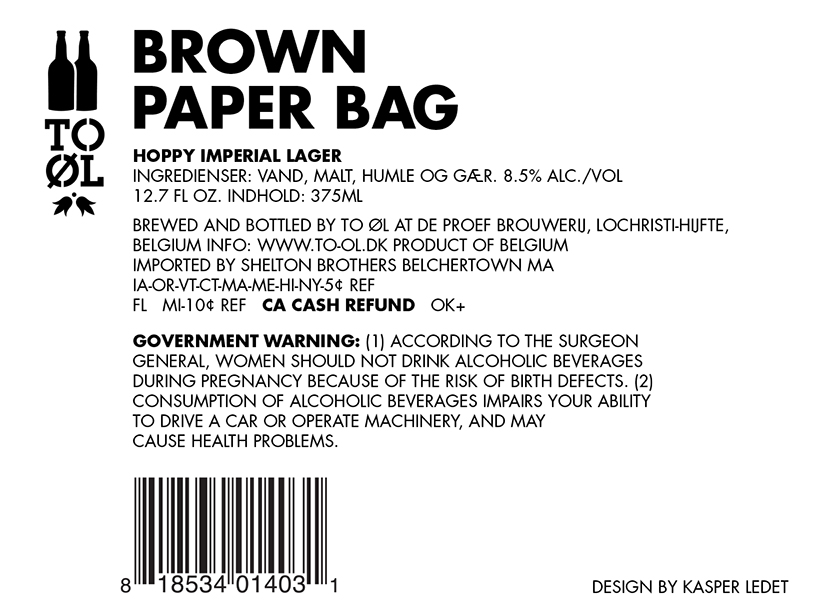 To Øl Brown Paper Bag
From the brewer:
"Let get this straight – being hobo doesn't mean you don't enjoy the zesty, fruity, piney, green pleasures of potent hops once in a while. It doesn't mean you can't separate the wheat from the chaff. It doesn't mean you can't be a total beer maniac.
Too long the lager yeast has been synonym with boozy malt liquor or obnoxious lagers, but the lager yeast is actually perfect clean canvas for showcasing the beauty and potent aromas of hops.
This is why To Øl now are presenting "Brown Paper Bag" an 8,5% Imperial Pilsner brewed with a solid amount of melanodin and caramel malts to give the pilsner yeast some backbone and to smoothen out the potent yet fruity Mosaic, Citra and Amarillo hops.
And for all of you beer geek hobos – we pre-packed this sucker for you!"
Style:
Imperial Pilsener
ABV:
8.50%
Packaging:
375ml bottles
Other Beers by To Øl