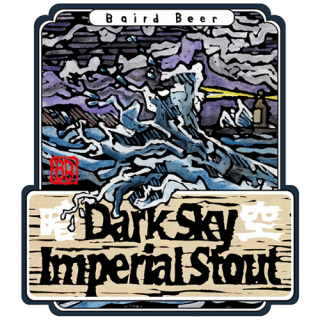 Baird Dark Sky Imperial Stout
This foreboding, pitch black ale unleashes a torrential downpour of hop character within a maelstrom of roasted malt flavor. A pleasing roundness and satisfying balance offer but the illusion of safe shelter. This granddaddy of Stouts is brewed with eight different malts, Japanese dark sugar and five varieties of hops. If you are a fan of hearty dark ales, Dark Sky Imperial Stout is for you! This monster stout is not for the faint of heart.
"It is in the calm before the storm that the internal fortitude to survive must be summoned."
Baird Beer is brewed at the foot of Mount Fuji by Japan's pioneering craft brewery. Lovingly and authentically crafted, it is unfiltered, re-fermented in the bottle, and naturally carbonated.
Kampai!
Style:
Imperial Stout
ABV:
9.0%
Packaging:
633 ml bottles
Other Beers by Baird Brewing