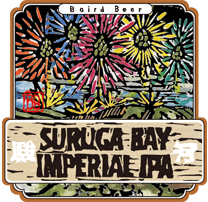 Baird Suruga Bay Imerial IPA
From the brewer:
"This extraordinarily complex yet balanced Double IPA is dry-hopped twice with whole flower cones and then krausened at packaging. The hop character (bitterness, flavor, aroma) is profound – vast and impactful like our local Suruga Bay is deep and magnificent.
Bryan's Comment
Double, or Imperial, IPAs shouldn't drink like sweet high-hopped Barley Wines; nor should they taste like hop turpentine, unpleasantly assaulting your taste buds. The hop character should be defining, but in a bright, fresh, effervescent sort of way. This is exactly what you will find in Suruga Bay Imperial IPA!
The Label Speaks
Bryan described to artist Eiko-san the flavor of Suruga Bay Imperial IPA as a 'fireworks-like festival of hop character.' Eiko-san's label artwork depicts just that – a fireworks festival in which hops are colorfully exploding in the sky over the Suruga Bay."
Style:
Imperial IPA
ABV:
7.50%
Packaging:
20L Kegs and 330ml bottles
Other Beers by Baird Brewing