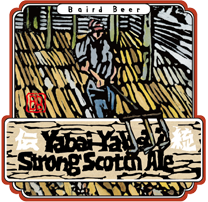 Baird Yabai-Yabai Strong Scotch Ale
From the brewer:
"Rich & robust in texture, sweetly warming in the mouth, and featuring a slight vinous character reminiscent of port or sherry in the pleasingly long finish.
Bryan's Comment
One pint and the bite will be taken out of the evening autumn chill. Two pints and you will experience a blissfully warming sensation throughout your body. Three pints and…YABAI!
The Label Speaks
Tradition is a sacred thing to us. Nothing is more traditional in brewing than old-fashioned floor-malted barley. Very few maltsters floor-malt anymore because of its tedious labor-intensity. At Baird, we exclusively use floor-malted barley as our base malts (Maris Otter & Pilsner). Our friends as Crisp Malting do a great job, and with real tender loving care. This label depicts a maltster laboriously raking his germinating floor-malting barley. The Japanese kanji for 'tradition' (伝統) is depicted on the name facing."
"
Style:
Scotch Ale
ABV:
7.50%
Packaging:
20L KeyKegs
Other Beers by Baird Brewing