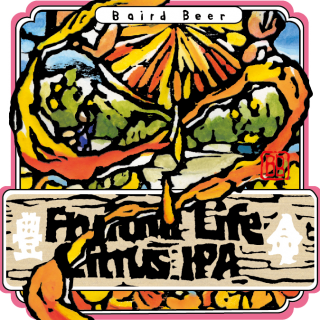 Baird Fruitful Life Citrus IPA
From the brewer:
"Citrus reigns in this daidai & lemon fruited and hop forward India Pale Ale. The citrus character is bright, zesty, spicy and quenching.
Bryan's Comments
Fruit beers historically have a poor reputation among brewers and beer enthusiasts. They most often are made with off-the-shelf processed fruit extract and are designed to appeal to non-beer drinkers. Not at Baird. We use only whole fruit that is in-season fresh. We subject the fruit to fermentation. We add it to accent and complement the character of an already superb beer; we don't approach fruit in beer as a gimmick.
Shizuoka prefecture, with its temperate climate, is a wonderful location for citrus fruit growing. One of my favorite local citrus fruits to use in brewing is called Daidai. It is large like a grapefruit but spicier in aroma and much tarter in flavor. It combines gloriously with bright citrusy hops. In fact, you will find it difficult to discern where the hop character ends and the fruit character begins – they are so symbiotically intertwined. That to me is the telltale sign of a well-made fruited beer. This year we also have incorporated a moderate quantity of locally grown lemons into the fruitful mix. The marriage is sublime!"
Style:
IPA
ABV:
7.50%
Packaging:
KeyKegs
Other Beers by Baird Brewing