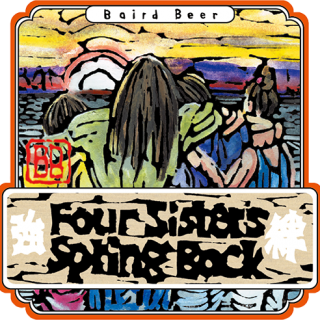 Baird Four Sisters Spring Bock
From the brewer:
Four Sisters Spring Bock is brewed in the spirit of a German Maibock. Its hue is deep copper-gold; the nose is sweetly floral; the mouthfeel is luxuriantly malty; the finish is round and smooth.
Bryan's Brewing Notes
Four Sisters Spring Bock was first brewed in 2004 to commemorate the birth of our fourth (and final) daughter and to celebrate the special bonds that exist among and between sisters. Our four daughters (Savannah, Ash, Lexington, Sommer) were for the most part raised in and around our Numazu Fishmarket Taproom pub and backroom Baird brewery. It seems only fitting that they have a beer named for them.
Four Sisters is brewed in the spirit of a German Maibock (a unique golden colored bock historically released in the month of May), but one that harkens back to a time before the general association of Bock beer with the city of Munich. Our image is the Bock beer that was being brewed in the city of Einbeck in the 13th century. It was said to be brewed with one-third wheat and two-thirds barley and it was noted for its refreshing palatability and bready wholesomeness. 'Refreshing' and 'wholesome' are two very apt descriptors of the Four Sisters Spring Bock flavor profile. So too, would be 'hearty' and 'robust.' To achieve these flavor characteristics, we employ a traditional German triple-decoction mash regimen on brew day.
The Label Speaks
The graphic artwork is based on a photo taken in August, 2015 of Bryan & Sayuri's four daughters gazing at the sunset on an Amami-Oshima (Sayuri's birthplace) beach. The precious, yet strong, bond that exists among and between siblings is captured perfectly here. The kanji depicted mean, literally, 'strong' (強) and 'bond' (絆)."
Style:
Maibock
ABV:
7.00%
Packaging:
20L Pub Kegs
Other Beers by Baird Brewing