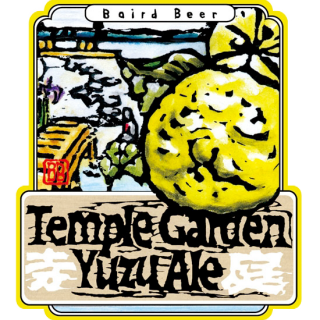 Baird Temple Garden Yuzu Ale
The spicy aroma and tart flavor of Japanese yuzu fruit, picked at a local temple garden, define this other-worldly brew. A luscious kiss of malt sweetness serves as a wonderful balance to the citric tang.
Baird uses only fresh fruit, the juice and peels of which they process by hand at the brewery. Yuzu is the Japanese name for citron, a terrifically aromatic and tart citrus fruit.
In addition to the Yuzu fruit, significant portions of both malted and unmalted wheat are included in the grist providing a sturdy platform of sweet-tart character for the Yuzu to act upon. Bittering and flavor additions of Vanguard hops complete the flavor circle. The aromatics stem entirely from late kettle additions of Yuzu peels.
This inspired ale surely is proof of the existence of a higher being.
"In the simple geometry of the temple garden there is barely hidden depth and complexity."
Baird Beer is brewed at the foot of Mount Fuji by Japan's pioneering craft brewery. Lovingly and authentically crafted, it is unfiltered, re-fermented in the bottle, and naturally carbonated.
Kampai!
Style:
Fruit Beer
ABV:
5.7%
Packaging:
633 ml bottles
Other Beers by Baird Brewing