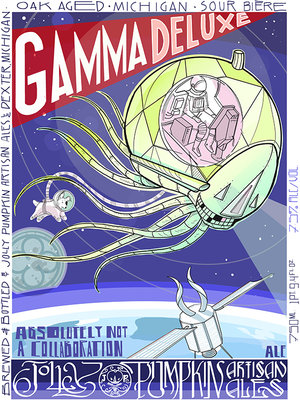 Jolly Pumpkin/Jester King Gammadeluxe
From the brewer:
"GAMMADELUXE was brewed in collaboration with our good friends at Jester King Brewery in Austin, Texas. We wanted to share knowledge and techniques that we had acquired from Henry of Monkish Brewing Co. and with that we brewed this sour Monkish inspired IPA. This IPA pours a beautiful bright yellow with just the right amount of haze. An aroma of funky fruit tannins in the nose. Packed full of seven different hop varieties giving notes of grapefruit, light Brett characteristics, a tannin dryness, and a touch of pineapple.
Pulled ever upward
As the dazzling blue becomes black
And as light fades away
A thousand thousand diamonds
Pinwheel and fire
Dissolving into the darkness
Upward loses its meaning
Can there be a return?
Gammalux was
Our second collaboration with our dear friends at Jester King
GammaDeluxe is
Hoppy hazy sour IPA
Learned from my dear friends at Monkish
Taught to my dear friends at Jester King
Love, Respect, and Friendship
Cheers & Mahalo plenty!
Ron Jeffries, Founder and Chief Squeegee Operator"

Style:
Sour IPA
ABV:
7.50%
Packaging:
Kegs and 750ml bottles
Other Beers by Jolly Pumpkin Artisan Ales