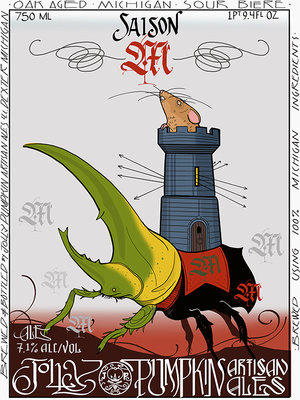 Jolly Pumpkin Saison M
From the brewer:
"Saison M is the 5th member of Ron Jeffries non-alphabetic Letter Series. Saison M was brewed with all ingredients sourced from our great state of Michigan. The grains – Pilsner, Spelt and Munich 10, were all malted by our friends at Pilot Malt House and the Cascade and Chinook hops come from Churchkey Farms. Our process of open fermentation allows the natural occurring wild yeast of Dexter to also work its way into this beer, resulting in the Michigan trinity we are proud to call Saison M.
Saison M is a well-balanced confluence of Michigan agriculture with notes of lemon, pineapple, and resinous pine. Mild bitterness washes over the tongue before giving way to hints of oak and moderate acidity.
Nwarvik, giant captive protector beetle of the southern mouse people steadfastly carries castles of invaders to consume and burn the lush and fertile fields and forests of the far north in violent century old retribution for the sins of fathers long dead – Will the ice crystalline palaces and inky indigo lakes survive the night…?
We grew here, you flew here.
Or drove, I guess.  I guess you could have driven.  Maybe took a train or bus, too. Or a giant rhino beetle.
Brewed with 100% Michigan grown ingredients
Cheers & Mahalo plenty!
Ron Jeffries, Founder and Chief Squeegee Operator"

Style:
Saison
ABV:
7.10%
Packaging:
Kegs and 750ml bottles
Other Beers by Jolly Pumpkin Artisan Ales