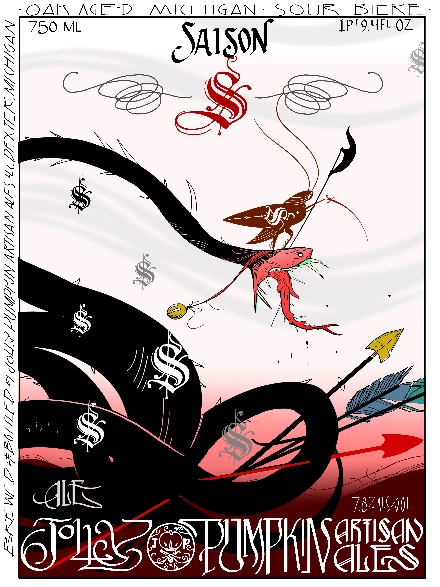 Jolly Pumpkin Saison S
From the brewer:
"Saison S is the 5th beer in Ron Jeffries non-alphabetic "Letters" series. This saison matured in oak for nearly a year before being packaged. Time did wonders for this beer, and if time equals money then this beer is gold! Aromas of Brett, oak, and hints of pineapple fill the nose. Tastes of tropical fruit, mango, and light oaky chardonnay notes pair perfectly with its light body, slight dryness and moderate acidity.
Saison $
Cash rules everything around me.
The sins of my past
Haunt my present
Skeletons rising
From memories
Of the earth
Grasping at my ankles
Floating
Phantoms
If evil has a name, I do not know it
But I know where it lives
Cheers & Mahalo plenty!
Ron Jeffries, Founder and Chief Squeegee Operator"

Style:
Saison
ABV:
7.60%
Packaging:
Kegs and 750ml bottles
Other Beers by Jolly Pumpkin Artisan Ales